Commercially made linen or cotton canvas panels are available, and they are very nice. However, making them yourself will save you money and they really don't take very long to make.
Here are the materials that you will need with step by step instructions (and photos) on how to mount linen or cotton canvas to board.
There are various surfaces to mount linen or cotton canvas to, depending on how light you want them to be. For general use I like Gator Board. Gator Board is similar to Foamcore, however the outer substrate of Gator Board is a harder material and will not bend, Foamcore will bend so it should never be used to mount canvas. Gator Board comes in various widths and in white, natural (tan) or black. If you are traveling and want a thinner panel you can use 1/8th inch Birch plywood, Masonite or Hardwood boards. Another extremely light and thin option is Media Board sometimes called Non Buckle board. It is very thin and you can stack numerous paintings if you are going on an extended painting trip. When you get these panels back to the studio you can then support the Media board with a heavier backing or Foamcore when it's time to frame the painting.
Note: I recommend that you start making small sizes at first 6×8 to 16×20 until you get the technique and drying time down, then you can better handle larger panels 18×24 and larger.
Materials you will need: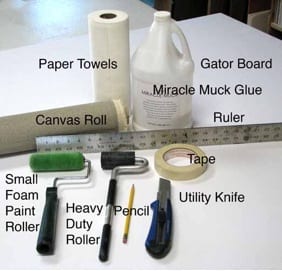 A Roll of Pre primed Linen or Cotton Canvas

I prefer linen but you can use cotton canvas if linen is too expensive.

Gator Board, Masonite or Birch plywood. (Not Foamcore!)

I use 3/16 inch Gator Board for smaller sizes and ½ inch Gator Board for large panels. To find Gator Board or Media Board/Non Buckle Board try an art supply store or on line. For Masonite, Hard Board or Birch Plywood try your local lumber yard.

Miracle Muck Glue

Miracle Muck is water soluble (cleans up easily with water and it is also "heat re-activating", which means that the low to medium heat of an iron or hair dryer, will allow you to peel up the canvas even after it has dried, if you need to remove the canvas from the board.
IMPORTANT! Be careful that the iron is not too hot or you can scorch your painting. Get a gallon of it from SourceTek. They will only ship when the outside temperature is safely above freezing. If they have a problem sending it, you can try your local art supply stores and see if they can get it.
Small 5 inch wide foam-rubber house painting roller with reusable (green flocked) rolls

These rolls may be sold separately. They give you a nice even smooth application of glue which is very important! Any paint store, or Hardware store should have it.

Large Utility knife

I use the kind that has segmented blades that I can snap off when they are dull.

Long metal straight edge for cutting
Roll of Masking Tape
Heavy Laminate Roller

The kind that they sell for pressing down Formica to counter surfaces. Hardware stores carry them.

Paper Towels
The Procedure:
Step 1
 With a pencil, mark the Gator Board a bit larger than you want the finished panel to be. Example:
For an 8×10 inch panel cut it to 9×11 inches.
For small canvases an additional 1/2 inch all the way around is fine.
For larger sizes I recommend 1 inch all the way around. After the canvas is glued down and dried, this makes a nice, clean edge once the excess is trimmed off. However, if you have pre-cut boards to the exact size and don't have any excess trim, it is not a problem.
Using the pencil lines for a guide, cut out a piece of Gator Board with the utility knife and metal straight edge. Make several passes of the blade until it cuts all the way through. If you are cutting Masonite or plywood, you may need a table saw to cut the material.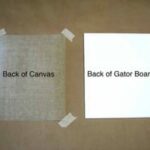 Step 2
Cut a piece of Canvas to the same size as the Gator Board in Step #1 and lay them side by side.
Note: If you cut the canvas from a roll, you might have to tape down the corners so it doesn't curl up when you apply the glue.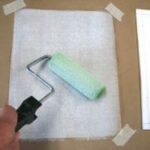 Step 3
Pour some Miracle Muck out onto the raw side of the canvas and work it evenly into the canvas with the foam roller to get a thin and even coat with no puddles or dry spots.
IMPORTANT: You want a thin, even coat of glue rolled out from edge to edge.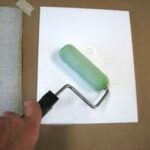 Step 4
Pour a small amount of the Miracle Muck from the bottle onto the Gator Board.
Using the foam roller, roll out the glue evenly over the entire surface of the Gator Board. You won't need to pour out as much glue because the board is not as absorbent as the canvas. (Make sure that there are no puddles or dry areas on the surface).
IMPORTANT: You want a thin, even coat of glue from edge to edge.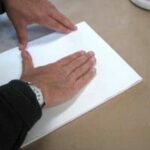 Step 5
Take the glued Gator Board and flip it over onto the glued canvas surface adhering glue side to glue side. You must do this while the glue is still wet. You will still be able to slide it around or lift up the board to adjust it if necessary.
Line up all the edges as best you can, so when mounted, the weave of the canvas is not crooked. Press lightly over the Gator Board with your hands so that both glued surfaces make good contact.
Then, turn the panel over to the canvas side (removing the tape from the corners of the canvas).
Gently pressing down with your hand again, (this time on the canvas side) starting at the center and moving toward the outer edges, smooth out any air bubbles that might still be between the canvas and board.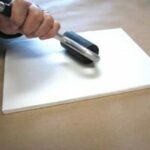 Step 6
Take the heavy roller and bray down the canvas to the board (roll from the center out to the edges again).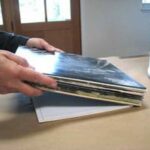 Step 7
When the mounted canvas is flat and smooth, turn it face down and put some books or other heavy flat object on top to keep the panel flat over night. Be sure to weight the whole surface.
You can stack several of them under the weights. If you are mounting a variety of sizes at a time, put the larger ones on the bottom of the stack.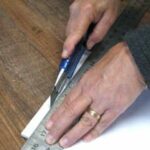 Step 8
The next day you can trim off the excess ½ inch of material from the panel with the utility knife. Trim them to the finished size you want. It may take several passes to cut through but you will get a nice clean edge.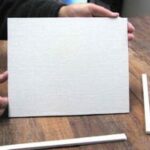 Once you do it a few times and get the feel of how much glue to use it should be a breeze to make a bunch at a time with no problem.
Good Luck with your project!