Notes from the Harley Brown, Allan Duerr Interview
By Howard Friedland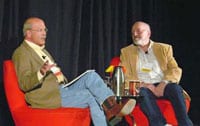 Attendees at the 2010 Oil Painters of America National Show in Scottsdale were treated to an informative and extremely entertaining experience. I don't use the word "experience" lightly, because being in the presence of Harley Brown (a legend in the field of representational art) cannot be expressed by using any other word. Allan Duerr who is the co editor and publisher of Art of the West Magazine had the pleasure of interviewing Harley. These two chaps go back a long way, so there were high expectations in the air, and boy were those expectations met!

Allan:
 Harley, when did you know that you want to become an Artist?
Harley:
 I remember a moment, at seven years of age, while sitting on the floor drawing. I knew then that I wanted to be an artist. As I was growing up I was a visual savant, I wasn't much good at anything else. His mother played the piano and encouraged him to take lessons. He later would become a professional musician.
While mentioning that his father was an artist, he suddenly leapt up and left the stage excitedly to grab a painting that was on display at the front of the stage. It was a painting that his father painted of the actor Ronald Coleman. Showing the portrait to the audience he declared, "This painting is my prized possession".
From that point on, Harley became more and more animated. He moved gracefully down from the stage to cast his spell on the audience. He just as seamlessly popped back up on the stage to resume his interview with Alan. He made the room come alive.
Allan:
 Did you ever consider giving up?
Harley:
 No, I never felt like a failure or a success. I didn't much care what others thought. I had "Tunnel vision".
Allan:
 When did you get the recognition?
Harley:
 Recognition doesn't really happen in reality. I don't think about it. It's fake.
I did a portrait of Ronald Reagan. I got only one commission from it. Life is fickle. People are fickle.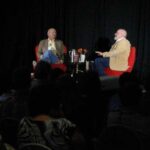 Harley then proceeded to tell us about "The Three Harleys". First he picked up a self-portrait of himself as a young "Serious" Harley. The style and color clearly showed the determination and seriousness in his demeanor. Next he showed us the second self-portrait that was painted later in his development. Cranky Harley the "Hyper-Ego" period. This is the time that he considers a "Tipping Point' in his life. The Third self-portrait he called "Happy Harley". This is a more self-assured, jovial look. He said that at this point in his life he says whimsically that he doesn't "look down" on people for not having aesthetic values.
Allan:
 You are a member and invitee to Prix d' West and Cowboy Artists of America. How do you keep the shows and the galleries supplied?
Harley:
 I have learned to say NO!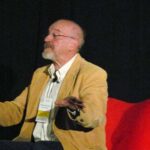 To interject some fun, Harley livened things up with his impression of John Wayne, followed by the same impression only in reverse, as if it was on a film being played backwards.Harley's huge smile and warmth are infectious and his quick wit and antics were hilarious. He has the ability to convey his enthusiasm and wisdom about art by spicing it up with pithy and humorous stories. One such story was about a time when he was starting out. He was married with kids and was working in a studio in a fellow's basement. The janitor that worked there became his "Art Dealer". Harley began painting glitzy pseudo-modernistic portraits with graphic backgrounds and Elvis paintings on velour. To do this, he reinvented himself as the artist "Belenofski"(a pseudonym, the name Brown simply didn't have the glamour). The problem was that Brown was becoming jealous of Belenofski. It seems that Belenofski was selling his paintings for more money and faster than Brown's paintings. The people just loved Belenofski! Harley created a life and history to go with Belenofski. Belenofski was a white Russian who was married 5 times. To get rid of Belenofski when Harley didn't want to paint more of these pot boilers, he had made up the story that Fleur, (Belenofski's last wife) came back into is life and Belenofski and Fleur disappeared together.
Allan:
 What does respect mean to you?
Harley:
 It could be just a little word from a friend. Years ago I had a two man show with Ramon Kelly. Ramon was really established already. The show was in Denver and most of his paintings sold and I only sold one. Ramon said to me "Don't worry about it, your stuff is just too damn good". I love giving respect. When I see good work I love telling the artist. Once I was watching a little kid draw. I saw that he had so much talent so I told him "If you don't continue drawing and growing, I will haunt you!"
When I was young I used to talk a lot about being an artist. One day my father said to me "You're a big talker; you are just a lot of talk. Make your mind up. I will support you and send you to art school. Sign up tomorrow. If you don't, I don't want to hear about art any more". God bless my father for making it happen.
Harley's teaching style: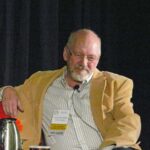 From what I gathered from watching and listening to Harley I can imagine that a student would have to be on his or her toes to capture the essence of what he is saying.  He will interweave topics that are seemingly unrelated to painting such as movies (Harley is a big fan), classical and jazz music (he is an aficionado), what is the best pizza (Harley wants one named after him), etc.  At times there would be those who didn't like his rambling style and thought that he was "wasting time". Harley considers them "Spoil sports" and devised ways to "Hunt them down". The truth is though that Harley was an extremely dedicated teacher. So much so that his classes would go on day and night.
Some things that he stresses are; never put detail in both the light and shadow equally. If the model is primarily in light, keep the detail in the light and not so much in the shadow. The same is true if the model is cast in more shadow than light. Keep the detail in the shadow and then the light side will be bleached out with less detail.
Harley pointed to the work of Donald Teague and Rembrandt to talk about the importance of design and correct values to a painting.  He stated," Values are an artist's best friend". The more you know the values the stronger the color. It's not just throwing on color.
On another subject, he remembered being shocked by a painting that he saw in London. It was a painting of flags by Jasper Johns.
To make a point he picked up one of his most valued drawings to show to the audience. It was a charcoal drawing that he did years ago of the actor Boris Karloff. He then proceeded to slowly and deliberately tear the prized work in half, and then in quarters, over and over he tore the drawing until it was torn to bits. There was a collective gasp that was heard from the attendees. Harley said "because of the shock value, this spectacle will most likely be the only thing about the interview that will stick in your visual memory." He called it "Memory value". We remember the out of the ordinary, the shocking. The Jasper Johns flag painting. The composer John Cage's composition where he sits by the piano for an hour without playing a note.
Allan:
 Harley, you have had a number of memorable quotes.
Harley Quotes:
"An artist's greatest attribute isn't skill it is attitude."
"I had average talent, I worked my butt off".
He then screamed,
"I WANT TO BE AN ARTIST – Not for the money.
TO MAKE ART!"
"Draw everyday from life not just photos."
"Value drawing is the artist's best friend. Be religiously faithful to values, it will take you to another level."
"There is a moment when you are on your own."
"Allow your sub conscious to do the work."
"The painting is finished before the artist knows it is."
"Feel the portrait's heart beating."
"Leave well enough alone."
"Learn the rules first then say,'the heck with it!'"
"Go as close as you can to Mother Nature."
"Be yourself! You won't become the artist that you want to be
until you become yourself. That takes time."
"James Dean was influenced by Brando, Brahms by Beethoven.
We are all influenced.  You will get to the point when you don't think of other artists. You will let it flow and let it pour out of you. That's a magical moment."
Harley told us about his two imps. One imp is on his left shoulder and one on his right shoulder. One imp whispers "put that in the painting" the other good imp implores "No, No, No, Don't do it!" The first imp hollers "SELL, SELL, SELL!"  The other shoulder good imp advises "Have fun and explore".
"My hope is to live in a little log cabin, some trees, a creek, listen to the birds and have a few shows. If I never sell another painting I could be happy."
I know that this OPA member will not soon forget this "jovial gent" and his sometimes-outrageous ways of communicating his love for art and artists.