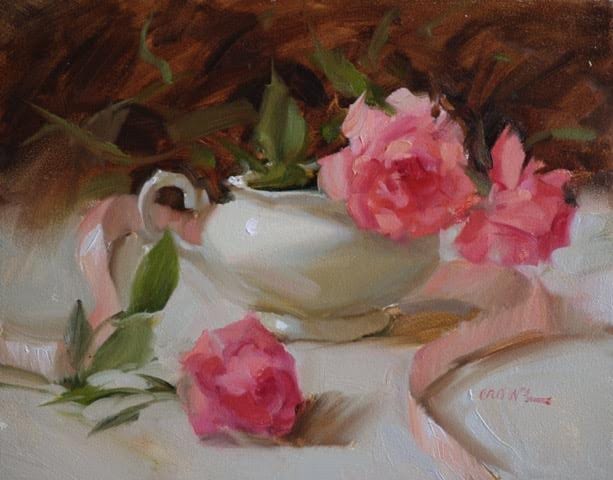 When I first began painting and I had been told that correct edgework was something that could make or break a painting, I would have had no idea what that meant.  Today after a few years of painting I believe that to be true.
As Mr. Richard Schmid points out in his well-known book, "Alla Prima"
"We see in ways that no camera or recording device can quite duplicate.  So far, only a certain type of highly skilled painting can come close to the way we humans actually see things (because the seeing painter is the recording device).  If we are sensitive to the variety of edges in our subject, and we can translate them into appropriately hard or soft transitions between color shapes, there will be magic in our painting.  If we ignore edges, our work will be flat and unconvincing."
Magic.  Making a painting sing…can the use of edges do that?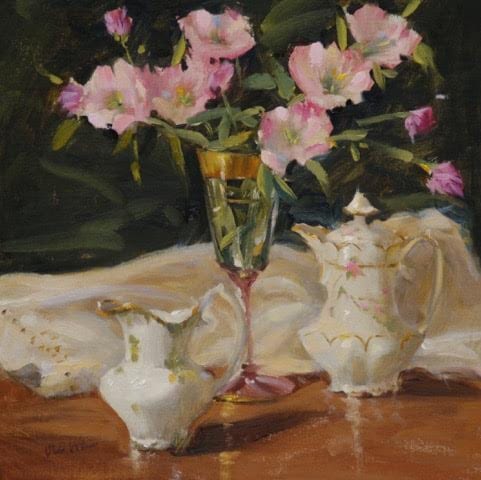 Of course the other technical elements of the painting, value, color, drawing are equally as important.  But lately, I have found that I look at my edges to see if they can be improved to achieve that quality that I'm striving for.
So how would I know what edges to make hard, soft, or somewhere in between if I'm a beginner?  As Mr. Tom Browning writes in his book, "Timeless Techniques for Better Oil Painting", observation is the key.  "It takes a lot of observing and painting from life to develop your eye in this direction.  Nature doesn't really have edges, just form.  So when we're faced with the task of taking what we see and transforming it into an illusion on canvas, we have to create our edges (based on observation) to help make the illusion of form seem convincing."
This can be a problem when working from photographs and one reason I have spent many years painting still life.  As a working professional artist, living in Houston and also juggling a family, I didn't have as much opportunity to travel and paint those wonderful landscapes that abound in the art market these days.  I also did not have the liberty of hiring my own models so flowers became my models.  Still life worked for me.  Consequently, I began to love to paint still life.  During that time, I was able to really observe edges.
If I were to give some advice to any beginning student that may be reading this at this moment I would tell them to paint what they love, stick with it, learn the fundamentals:  drawing, value, color.  But don't forget the edges-so that in time, your painting will sing and it will be like magic!