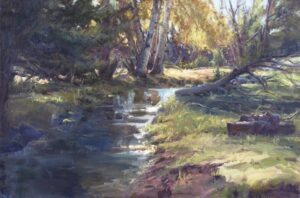 I bet you thought I was going to say "Different Folks"!
Well, that's my point! You can, and should be different, folks! No one wants to see a second rate Sargent or Sorolla. People want to see who YOU are in YOUR work. I'd be willing to bet that your favorite painters have their own strong unique way of painting and that is one reason you love their work so much. I tell my students, "you bought the paint, you bought the canvas, you get to use them the way you want"! There isn't a "right way" to paint"!

Yes, we all have favorite painters that inspire us. However, you can't crawl into their skin any more than they can into yours. For every glorious canvas that they have produced, there are hundreds if not thousands that didn't make the cut. The old trope is true, it does take miles of canvas before producing anything worthwhile. Each person has his or her own level of motivation and ambition to achieve higher technical ability and skill. It's a personal journey of growth and fulfillment and every person has different goals and different ways of getting there.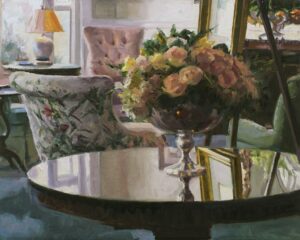 I have found the best way to achieve growth in my work is to make it as easy to practice my craft every day as possible. This means having an available space and the available time in my life to set aside to "just do it"! Also for a boost of motivation I like to peruse books about my favorite painters and perhaps scroll through Instagram, Pinterest or Facebook. Seeing all the wonderful work inspires me to get to my easel and get started.
If you are striving to improve your traditional painting chops, there are great workshop teachers that can point you in the right direction but beware of those who want you to paint exactly like them. It's fine to pick up tips on materials, work habits and learning techniques from them but, again, developing your own vision is key to fulfillment as an artist. Picasso didn't even want to copy his own style. That's why he kept changing it! I guess he was easily bored.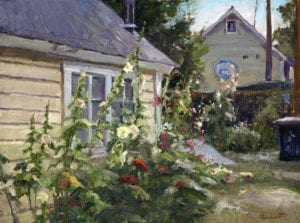 Here are a few of the concepts I have found helpful in strengthening my work. Practicing my drawing skills helped me to see accurate shape relationships and develop design ideas for my paintings. Focusing on my understanding of how light functions enhanced the veracity of my work. It also has informed my knowledge of my color palette and how color temperature comes into play. It is very important to be honest with yourself and do what is necessary to work on areas that will help you communicate your vision more clearly.
At times, I, myself, have taken a workshop from an artist whose work I admire when I needed a jumpstart or felt they had a skill set that I needed to get a better handle on. However, when all is said and done, it is still up to me to put in the time with the brush in my hand that matters most. After all, it is best to have the brush in your hand when genius strikes! The old saying that "practice makes perfect" is only half true! "Perfect practice makes Perfect"!
So, take a deep breath of "I can do this" and "DO YOUR OWN THING"!

Please check out my brand new FASO website at
www.howardfriedland.com
for more images and information about my paintings.