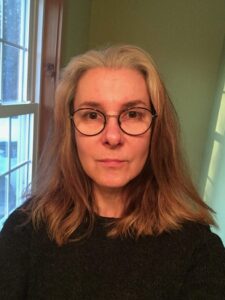 Shelah Horvitz is an American contemporary realist painter. Her influences are innumerable; latest favorites are Isaak Levitan and Daniel Sprick. She holds degrees in English Literature (Brown University), Computer Science (University of Massachusetts/Dartmouth and an MFA in Painting (University of Texas at San Antonio), and is currently studying with Stephen Bauman of the Florence Academy of Art US in a distance mentorship.
Shelah was born in Fall River, Massachusetts in 1960. She started training as an artist at four, under the tutelage of her mother, Frances Bieler Horvitz, who studied at the Boston Museum School (now Tufts). At around ten, Shelah got serious about art and started working from the nude while studying anatomy, Rembrandt, the Wyeths, Winslow Homer and the French Symbolists from her mother's texts. She began classical training at the age of 13 at the Wheeler School in Providence, RI under the Spanish painter Narcisco Maisterra, with cast drawings, extensive life drawing, painting from life, and copying masterworks at the RISD Museum. While at Brown University, the University of Massachusetts/Dartmouth, and the University of Texas at San Antonio, Shelah studied art history treatises, copied master works from books and in museums and reverse-engineered master techniques through extensive scholarship and experimentation. When married to a medical student, Shelah studied anatomy in the medical school's cadaver lab.
Shelah was in her first exhibition at the age of 20, at Brown University's List Gallery, hanging alongside such greats as John William Waterhouse and William Holman Hunt. She has been painting, studying, experimenting and exhibiting ever since. Her work has appeared in galleries and museums, magazines, books and television, in art historical tracts, on billboards, and in blogs worldwide.
Shelah now lives with her husband and dog in the tiny hamlet of Weld, on the edge of wilderness in the western mountains of Maine.
View OPA Blog articles by Shelah Horvitz