FALLING IN LOVE lets you see the world through rose-colored glasses. Your energy level rises. You're a more positive person. It often brings new experiences and your world expands. You are renewed, revived, energized and enthusiastic.
What more could an artist ask for? It's exactly what we need: New destinations and experiences to push our work to new levels… to see the world a little more brightly, to be positive, and energized!
Last summer I fell in love with Montana. Head over heels. It's not hard to do. Every blink and turn of the head finds new reference material.
We, (my mom, grown son, and I,) spent a few days in Glacier National Park.  I was dumbstruck by the color and clarity of the water, the breathtaking views, the wildlife. At one point we stopped the car knowing the car in front of us must be looking at something special.
I was so excited trying to get my mom and son to look at the bear walking straight toward our car that I stuttered, "b-b-b BEAR!" This beautiful cinnamon bear passed right under my open car window and I could have petted him as he went by. Photographs pale in comparison to memory. You have to capture those memories on canvas.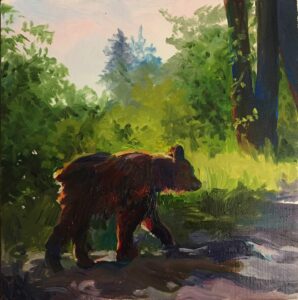 There was a deer right behind me as I took the reference photo for this: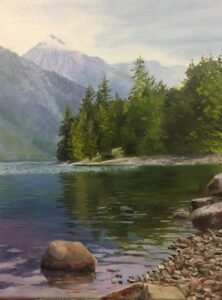 There are waterfalls; great, soaring, sparkling falls among gorgeous conifers and deciduous trees. The cascades, tumbling over multi-colored rocks, beg to be painted, and you can't wait to oblige.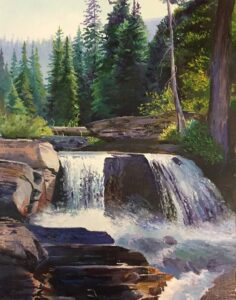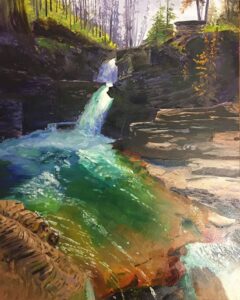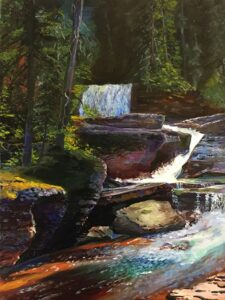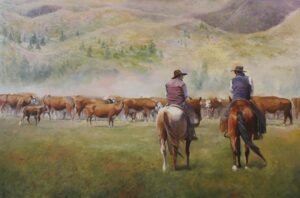 Montana still has cowboys. REAL cowboys!
And how can an artist not be reinvigorated by the wildlife of the National Bison Range? This giant followed the car a bit until we allowed him to pass and cross right in front of us.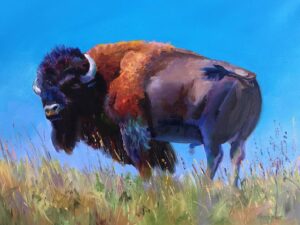 We saw grizzlies with cubs, elk, pronghorn, … at one point I had been dangling my feet in McDonald creek and got up to take a photo. When I turned back a beaver was swimming right where my feet had been, in water so clear you could see every detail of the bottom.
Are you frustrated? Are you feeling artistically uninspired? Do you need to be recharged? FALL IN LOVE.
Find Dan's Montana inspired work in the Going to the Sun Gallery, Whitefish, MT, and the Howard/Mandville Gallery, Woodinville, WA. To see more of Dan's work and representation, visit DanKnepperArt.com