This is a story about my father, John Melillo, a retired Vietnam Combat Veteran surviving and coping with severe Post-Traumatic Stress Disorder through art.
The Vietnam War was a very traumatic experience for my father. After retiring, he began to experience extreme PTSD. When it became overwhelming, he turned to painting and drawing for solace. His journey started with painting from photos he took while on tour in Vietnam. He found a great deal of healing in creating art from the pictures he took in a far-away land, a long time ago.
The clinical term for what my father is doing is "Prolonged Exposure".  The objective is to gradually approach trauma-related memories and feelings and learn that they are not dangerous, or need to be avoided.  The longer he faces the source of his trauma head on, the less traumatic it becomes. Focusing on creating colors, shapes, lights and darks, gives him a new world of positive experience. In addition, he is finding that he has a creative ability, and he calls this stage of his life a "rebirth" and his "third act".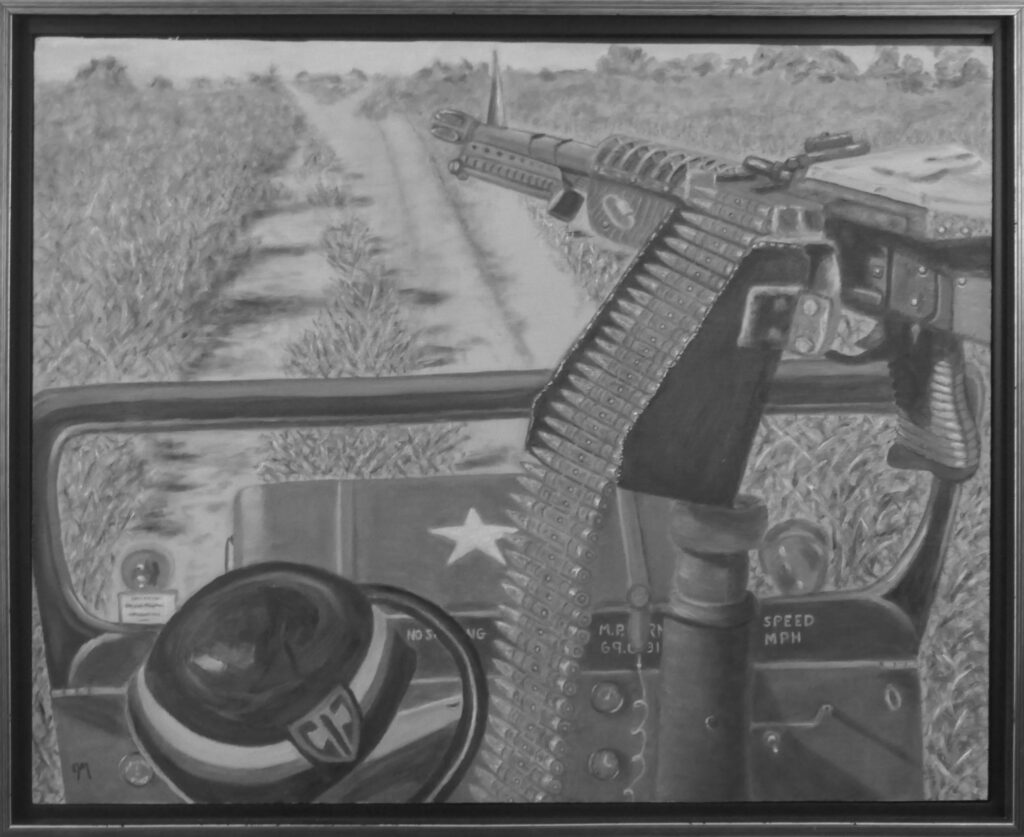 John Melillo's Vietnam Journey is reflected in his 7-part oil painting series called "Life Goes On".
He would like to share the stories behind two of his paintings from this series. The first, is "In Remembrance of Chris":
"Chris was from Texas. He was 19 years old with a wife and kid. I broke him into his duties in country. One day in formation, the desk sergeant was sick so they asked who was senior man to take his place. I was, but you'd rather be on patrol instead of handling everyone's complaints and the radio. Chris took my place on that patrol. It took about 4 minutes for me to get down to the police station. The first call that came in was that Chris was killed in action.  I painted "In Remembrance of Chris" from a black and white photograph of the patrol Chris would have been on that day. It was a patrol that we all took. Because of the nature and situation, I decided to paint it in black and white. I chose wood as a medium, simply because I felt it represented the style and mood I wanted to paint. So, I painted this picture to share with the world and remember Chris."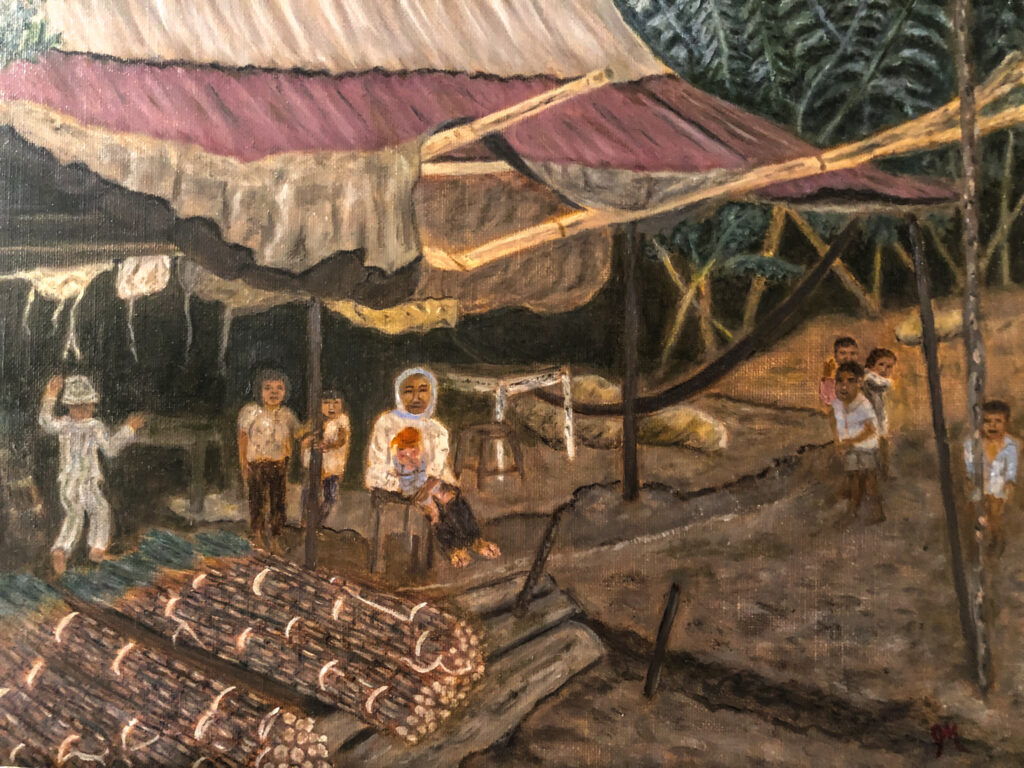 John would also like to share the story behind "The Caretaker". 
"In extreme situations like Vietnam, you have casualties. But on a lighter side, daily life must still go on. I found this woman. We called her The Caretaker. She stepped up, did a wonderful thing and took in orphans that lost their parents on both sides of the War. This is a Vietnamese orphanage out in the jungle that didn't get much traffic. As you can see, the kids are smiling, well fed, and dressed. This woman made life for them meaningful. It struck me as amazing and I wanted to immortalize her and that situation. Even though it was extreme, life was still going on there in a very unique way."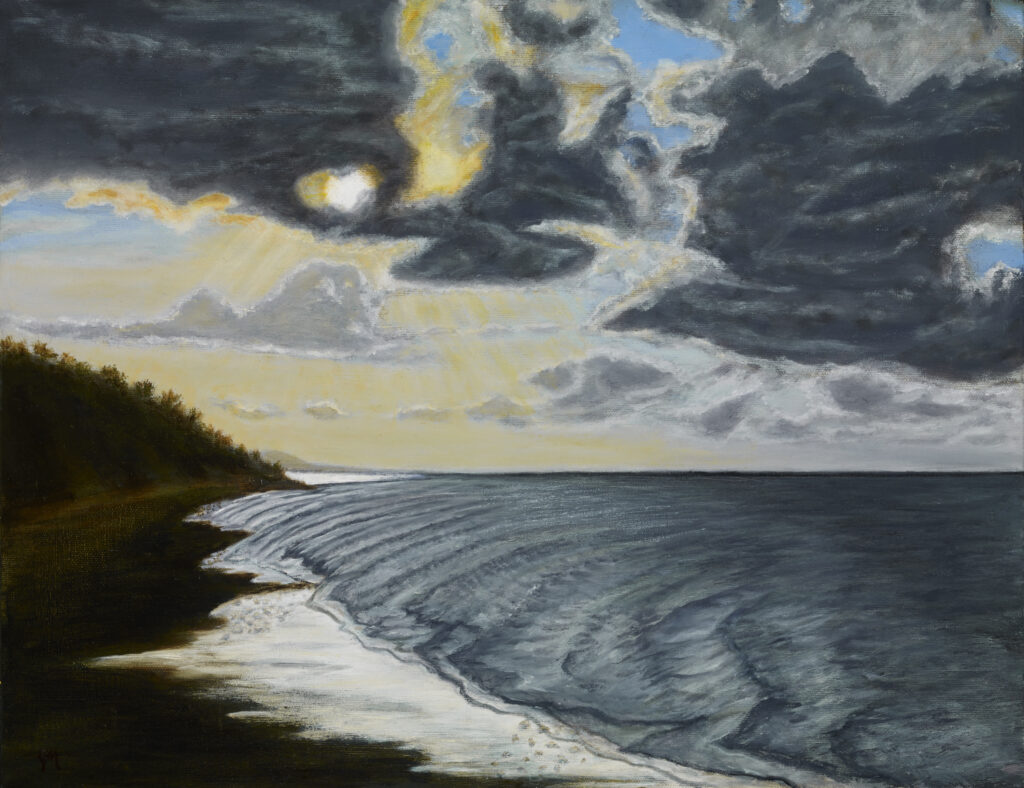 In addition to painting images from his Vietnam experience, John has turned to subject matter from his Eastern Long Island upbringing, as well as all the activities he enjoys there today.
"Discovering the wonder and beauty of Long Island now as I did when I was young is amazing. I feel almost EUPHORIC seeing those images translate into paintings.
I have found so much additional healing not just painting my family heritage, but what I experience today as I revisit those memories. What is important is the fact that I am still an active Eastern Long Island participant. I am an avid fisherman twelve months of the year with my daughter, sailing at daybreak and nighttime on all of Long Island's open waterways. We also visit farm stands, vineyards, beaches, pine barren parks, and travel the North and South Forks. These adventures provide a wealth of material to paint. My paintings are a reflection of my journeys: through Southampton, Shinnecock, Hampton Bays, Sagaponack, Sag Harbor, North Sea, North Fork Gold Coast, Mattituck, Orient Point, Montauk, Riverhead, Moriches Inlet, Center Moriches, etc."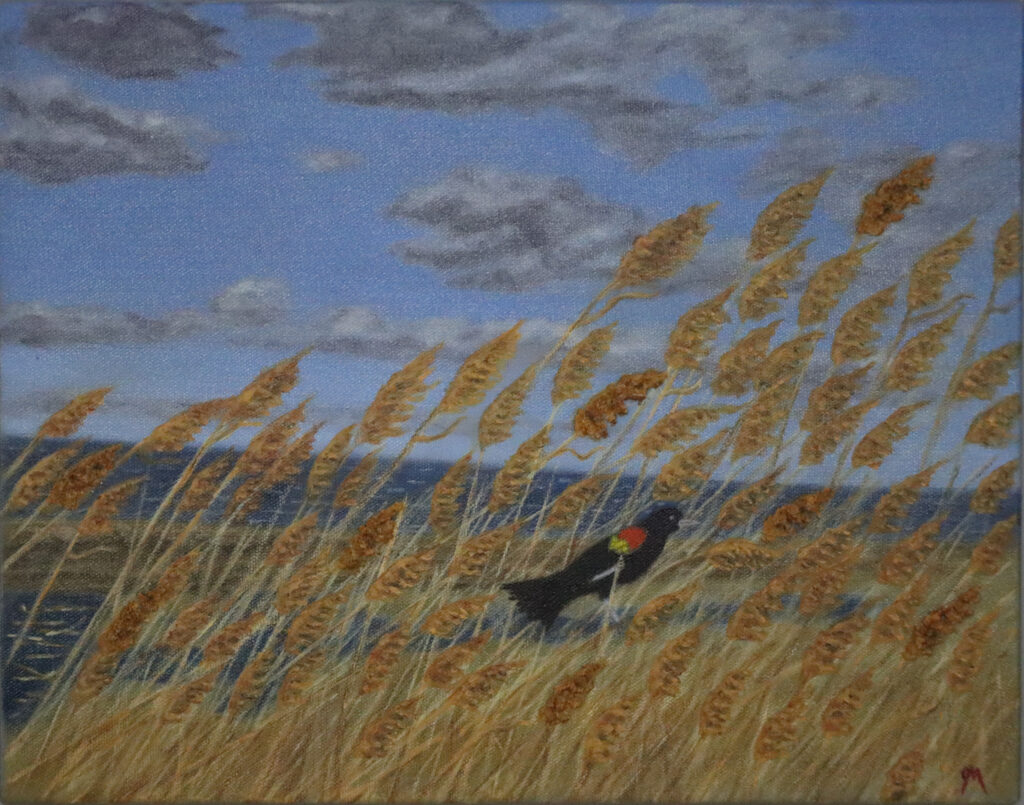 "What a wonderful way to appreciate the beauty of Long Island. To be on a boat at dawn and see the many unique sunrises. You can even catch sight of a whale. Dolphins and seals playing, turtle's coming to lay their eggs, Sunfish and various large sharks are common occurrences."
There is no greater reward than to experience this art journey with my father and see him continue to heal.
Thank you to all the soldiers past and present, you are a continued inspiration.
John's Instagram @artfeelingsjm / www.artfeelingsjm.com
We are grateful for all your interest and support.