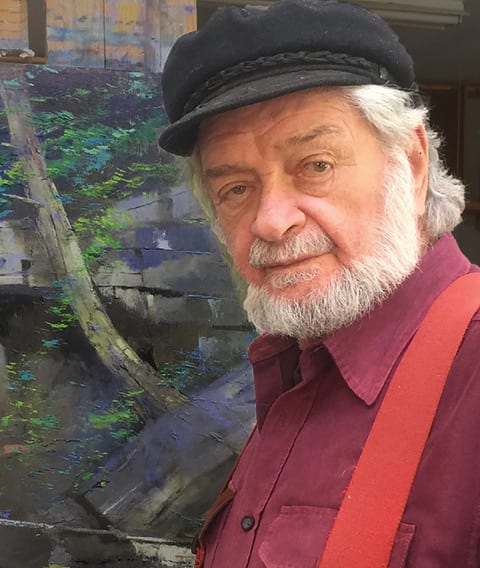 Albert Handell is one of the nation's foremost impressionist artists. He lives and paints in his adopted city of Santa Fe, New Mexico.
Originally internationally known for his works in the pastel medium, he was elected to the Pastel Society of America's Hall of Fame, making him, at that time, one of three living American artists so honored. In 2007, the Butler Institute of American Art, Youngstown, Ohio, honored him with a retrospective exhibition of his pastels, adding two pastels to their permanent collection.
Albert has been honored with Master Artist status for his oil painting in the Audubon Artists of America, the Allied Artists of America, The Salmagundi Club, the Oil Painters of America and the American Impressionist Society. He is a Life Member and regular exhibitor in the annual California Art Club Gold Medal Exhibition and has received a Life Time Achievement Award from the Plein Air Artists of America.
Albert paints on location from coast-to-coast with one of his two favorite plein air mediums: pastel, or watercolor under painting finishing with pastel.
"I love traveling around our enormous, wonderful country, which I consider more a continent than just a country. There's a lot of beauty and plenty to paint right here."
During the winter months you'll find him snuggled into his Santa Fe studio, painting larger works with oils. This seasonal changeover keeps Handell 'fresh'.
His oils and pastels are in numerous museums and corporate collections.
View OPA Blog articles by Albert Handell