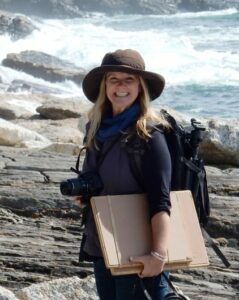 Award winning artist, Anne Blair Brown, was born in North Kingstown, Rhode Island and currently resides in Nashville, TN. Her work centers on both rural and urban landscapes, figure, and interior spaces. While she enjoys the quiet solitude of her studio, she delights in painting on location. Brown says, "Painting from life creates an intimacy with the subject that I just can't get from a photograph, and it heightens my sense of spontaneity. That energy is translated to the canvas in and out of the studio."
Currently, Anne's work can be seen at art galleries across America including Provincetown, MA, Carmel, CA, Naples, FL, Richmond, VA, and Leipers Fork, TN.
Recent Accomplishments
2nd Place, Oil Painters of America Eastern Regional Exhibition 2015
Honorable Mention Oil Painters of America Online Spring Showcase 2015
2nd Place, Oil Painters of America Online Summer Showcase 2014
Still Life Award of Excellence, 23rd Annual Oil Painters of America 2014 National Exhibition
1st Place, Buildings Category, Plein Air Salon, Spring 2014
Plein Air Magazine Award of Excellence, American Impressionist Society 14th Annual National Juried Exhibition, 2013
Artists' Choice Award, 2013 Los Gatos Plein Air Festival
Third Place, 2013 Wayne PA Plein Air Festival
Honorable Mention, OPA Online Showcase 2013
22nd Annual Oil Painters of America 2013 National Exhibition
Anne Blair Brown is a Signature Member of both The Oil Painters of America and The American Impressionist Society. She is the Past President of the Plein Air Painters of the Southeast (PAP-SE) and remains active in the group. She is also an active member of The Cumberland Society of Oil Painters and The Chestnut Group, a nonprofit group of artists dedicated to preserving endangered ecosystems, historic locales, and aesthetically and environmentally significant places.
Brown received her training from the University of Georgia and Watkins College of Art&Design.
For More information, please visit anneblairbrown.com
View OPA Blog articles by Oil Painters of America