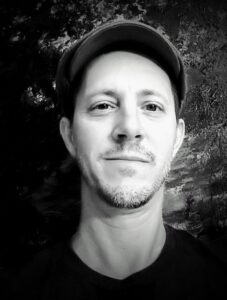 The making of art has always been with me. I have distinct memories of the joy I experienced orchestrating color and movement with crayon and paper. As I grew, I began to explore more precise imagery with pencil drawing, developing line and value to compete with the most detailed photograph. When I turned ten, my grandfather introduced me to watercolors and demonstrated how to make subtle gradations of blue in the sky. And then came Van Gogh! A middle school art teacher gave a slide presentation of various artists throughout history and there was Vincent. I was stunned by the rough truth of his vision. It was at that exact moment when I realized the power of art and I knew that was all I ever wanted to become, an artist.
Throughout my high school career I studied and emulated many painters. I would dissect and analyze the works in an attempt to understand both the process and the artist's vision. I received accolades from teachers, praising my potential and awards from many local and state competitions. As I moved on to college, I continued studying and learned the foundations of drawing, painting, sculpture and ceramics from many fine artists. Based upon the merit of my portfolio and complimentary references from professors, I received the distinction of Associate Professor of Art and began teaching in 1992.
Over the course of the next twenty years, I spent my time raising two amazing and successful children. Although the majority of my efforts were directed towards my son and daughter, I did squeeze in time for art. I began painting outdoors in 1996 along the Savannah River with an artist friend and co-oped a local gallery. During this time I continued teaching through private instruction, workshops, public demos and the Gertrude Herbert Institute of Art. My plein air painting morphed into landscape abstractions and my love of jazz became intertwined with the paint, creating compositions where color and form danced across the canvas. I was honored with great reviews and in 2000 I was awarded Best Visual Artist, Augusta, Georgia.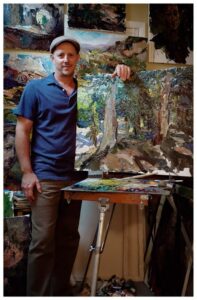 In 2001 I returned to Arizona, attended culinary school and graduated as a Le Cordon Bleu Chef with Gold Medal Honors. After cutting my teeth in the industry, I returned to the serious pursuit of art and becoming an artist in 2015. Once again I started from the beginning, refreshing my training through classical methods and traditional means, attending workshops and studying contemporary masters to rebuild a solid foundation for my art.
Today, I am quite drawn to works by Russian Impressionists both past and present. I find their freedom of paint application and abstraction combined with the earthy, rootedness of reality to be most beautiful. I'm in love with the sense of color, light, movement and the feeling of structure and weight in their compositions. In my own work I strive to use these elements to the fullest of my capability. I create my art with these ideals and I paint from life because I feel that the artist and his work are an extension of that spirit and can only be expressed by immersing oneself into that energy.
View OPA Blog articles by Brian Cote