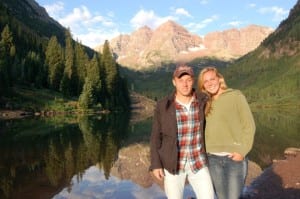 Brian Steck is a freelance web developer at Steck Insights Web Design and webmaster for Oil Painters of America. Born and raised near Chicago, Illinois, he recently completed a move to Colorado where he lives with his wife. Growing up, Brian learned construction and the ethics of hard-work while at his father's general contracting business. He was given the opportunity to explore subject areas of interest to him, such as web design, while homeschooling with his siblings. Self-motivation, creative problem solving and an avid love for learning were cultivated during this homeschooling years.
After high school, Brian spent a year as a missionary in Mexico, picking up fluent Spanish and a wide range of other skills. Upon returning, he studied music and received an Associates degree in Fine Arts of Music. During this period, he began refining his understanding of web development and acquiring new languages, such as HTML, CSS, PHP and Coldfusion. This study led to the project management of the current Oil Painters of America website and the web management afterwards. In 2011, web development became his full-time occupation, and it serves as both his profession and his passion.
Some of his web accomplishments include receiving exceptional reviews for his website designs as well as building excellent website for individuals and businesses of all sizes. From small up-starts and authors to large attorney firms and non-profits exceeding more than 60,000 members, Brian has had the chance to work with many unique and talented clients.
You can reach Steck Insights Web Design at www.steckinsights.com or his personal blog, about his faith journey, at www.brianmichaelsteck.com.
View OPA Blog articles by Brian Steck