www.brucepetrie.com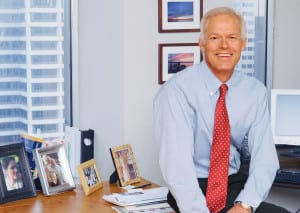 Bruce Petrie, Jr. is a lawyer, painter, author and speaker on topics of art and law.
He and his wife Mimi live in Cincinnati and have four children. Together, they are active in the community and enjoy Cincinnati's beautiful parks and vibrant arts and culture.
Law. Bruce is a graduate of Brown and Northwestern Law School and is a partner with the law firm of Graydon Head (www.graydonhead.com) handling a wide-variety of cases, negotiations and high-stakes legal matters for clients. His focus is in health and elder care, education, and labor & employment; and in problem-solving where competing interests have to be reconciled in a way that serves the client's purpose and mission. He has served in law firm leadership as a member of the firm's executive committee, is listed in Best Lawyers of America, and has the highest legal peer rating ("AV" from Martindale).
Art. Bruce has pursued his lifelong interest in art, beginning with drawing, illustration and cartooning and then oil painting as a student of American Master Thomas Buechner from Upstate New York, a friend and mentor. Beyond that, many hours of painting outdoors in natural light throughout the U.S. and internationally has been at the center of his Bruce's arts education and work, which has presented in publications, galleries, collections and shows, and received a silver medal in the 2013 Online Showcase Exhibition of the Oil Painters of America. He is a founding member of the Greenacre's Artist's Guild, a group of leading representational artists. He is a shareholder and patron of the Cincinnati Art Museum.
Art and Law/Writing and Speaking. Bruce has authored two books, one on art that donates proceeds to the Beverly Stevens Petrie Fund for Arts Education at the Cincinnati Art Museum ("Trail of the Brush: A Painter's Guide"); and one on law with the American Health Lawyers Association ("Health Care Labor and Employment Law"). His Continuing Legal Education course,"Brush with the Law, An Artful Eye on Law," is certifed in five states and he hosts a weekly blog on topics of art and law at Brush With The Law
View OPA Blog articles by Bruce Petrie