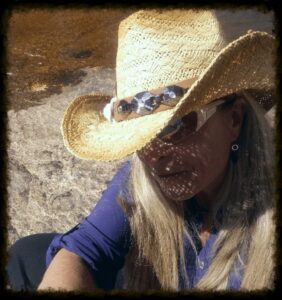 Casey Cheuvront's favorite shoes are hiking boots. For years she explored the wildernesses of the Southwest, hiking, backpacking, hang gliding and mountain biking. This has profoundly influenced her work.  Casey believes "we are incomplete without a connection to, and appreciation of, the natural world." She shares that spiritual relationship through her work in order to motivate a deeper respect for our vanishing wild places, and the creatures that call them home.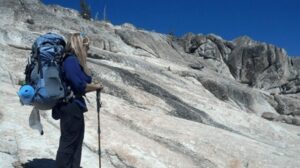 Casey studied drawing, painting, and ceramics at CSUF California, and has been influenced by current artists like Bill Cramer, Stanley Kurth, and Camille Przewodek. She completed a professional internship with Ken Willingham at his studio and gallery in June Lake, California.  Casey took every available art course while completing her degree in Psychology. Worn out after years of treating abused children and perpetrators, she returned to the business world but never stopped creating; ceramics, line drawing, painting,  jewelry making and other creative venues. Today she devotes herself exclusively to creating, teaching, and studying the arts.

Casey's paintings are deeply informed by her life-long appreciation of the natural world, established through a "feet-on-the trail" connection over many years. Her outdoor education began when she was very young. She would accompany her father on fishing, hiking, bow-hunting, and archery exhibitions and shoots in the Midwest. 
Nowadays her pieces showcase an ongoing fascination with the ever-changing Western and Southwestern wildernesses she has traversed for so many years, whether reflected in a patch of park near town or a remote lake only reachable by a long backpack. Her enthusiasm is translated into a vibrant, modern palette and energetic, dynamic brushwork. Look for works showcasing the Yosemite highlands, Sonoran desert, and the red rocks of Sedona.
For additional information in interview format: http://www.thalo.com/articles/view/1404/spotlight_artist_casey_cheuvront
Member Organizations etc.:
Oil Painters of America (Juried Member)
Arizona Art Alliance (Juried Member)
Arizona Plein Air Painters
Sonoran Art League
Grumbacher Certified Teaching Artist
Grumbacher Artist Ambassador
Senior Instructor, Vino and Canvas
Guest Instructor, Arizona Art Supply
Featured Artist, 2019: Tucson Museum of Art and Historic Block
Art for Land's Sake 2nd Place 2019
Desert Ridge Plein Air Festival Best in Show 2019
WHAM West Gallery 2019
Bold Brush Fav 15% 2019
Arizona Plein Air Painters Members Only Exhibition (Scottsdale Artists School) 2019
Sedona Arts Center Plein Air Event, L'auberge de Sedona, Judges Merit Award 2019
Taliesin West Desert Light: Juried Exhibition 2018
Art for Land's Sake Juried Exhibition: Honorable Mention 2017
The Holland Center Galleries 2016
Hidden in The Hill Studio Tour 2015, 2016
El Pedregal Gallery 2016
View OPA Blog articles by Casey Cheuvront