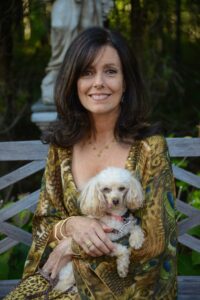 Denise Franzino is an award-winning artist whose forte is Portraiture & Fine Art. She graduated with honors from the Rhode Island School of Design with a BFA in Illustration. Denise was a freelance illustrator for The New York Times, Doubleday Books, Harlequin Books, Avon Books & many other publishing companies. She also studied for many years under the tutelage of John Frederick Murray where she had extensive training in the classical & traditional style of drawing & painting.
Denise's portraits hang in hundreds of homes throughout the country. Whether it be a Formal Portrait or Informal Portrait, she captures a moment in time to treasure forever.  Denise also enjoys painting florals, still lifes & plein air painting.
Denise is a member of The Portrait Society of America, American Woman Artists & American Impressionist Society.
Artist's statement
I knew from a very early age I wanted to be an artist. My passion grew into a career of becoming a portrait artist that has spanned over 20 years. My love for painting portraits & figurative work has never waned. Capturing someone's likeness but more importantly there spirit & essence is what excites me most & is the driving force behind each & every portrait I paint. I'm inspired by the challenge of each new painting & I'm grateful for living my dream.
My website is www.denisefranzino.com
View OPA Blog articles by Denise Franzino