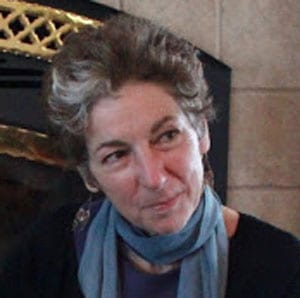 Diana Moses Botkin is a native Oklahoman, transplanted to Idaho in 1997.
She has been making art since childhood and recalls, "One of my earliest art memories is drawing with crayons one summer day on a large sheet of paper my artist dad had brought home. I was about three. I still remember lying on the porch and how the cool concrete felt under my bare tummy."
Diana's artist father picked "D" names for his three children. "We were the 3-Ds," Diana remembers, "perfect for children of a sculptor."
In high school, Diana enjoyed doing sculpture in clay. In college she picked up oil paints but had to teach herself how to use them, because the focus of the painting department at the University of Oklahoma in the 1970's was using acrylics for non-representational canvases. "I did learn how to stretch a good canvas, though," the artist reveals.
She began working in commercial art while still in high school and continued for nearly 20 years. Diana explains, "Although my father was a talented sculptor, he supported his family as an art director for a large ad agency in OKC. He started teaching me the trade when I was 15, and put me to work. I did free-lance jobs for various agencies during college and afterward.
"I also managed to land a few mural and portrait commissions which I enjoyed so much more than doing the commercial art. The years as a commercial artist paid my bills, however, and, paradoxically, served to solidify my desire to create archival artwork with a lasting visual impact."
When she married and began having children in the 1980s, the artist was able to follow her desire to do more easel painting. At home caring for family, Diana developed ideas which have become the basis for a continuing body of work. Having come through the influence of the Abstract Expressionists at OU, Diana developed her own realism using dramatic compositions and traditional methods and materials. The artist reveals, "After raising children and struggling during those years to find time to make art, I'm now more free to pursue my interests. At the age when most people are retiring from their professions, I feel like I'm just getting started. I still have so much to learn."
Her paintings have been honored with regional and national awards, museum and corporate purchases, and private commissions. Purchasers include Evansville Museum of Arts and Science in Evansville Indiana, St. Peter Hospital Clinic in Olympia Washington, Bristol-Myers Pharmaceutical Corporation in Evansville Indiana, Oklahoma Allergy Clinic in Oklahoma City, Women's Health Center in Salem Oregon, Fred Jones Jr. Museum of Art in Norman Oklahoma. Her work has been reproduced on book covers, in calendars and books.
The artist enjoys painting a range of subjects in a variety of sizes, and prefers working from life. Diana attends plein air paint outs in the Pacific and Inland Northwest in summer and fall, although she insists that painting people is what she always returns to, any time of year. She is a juried member of Oil Painters of America and exhibited at OPA's National Show in Coeur d'Alene in 2011, and OPA's Salon Show in 2013.
Diana enjoys teaching beginning drawing and painting workshops. She also writes articles for Professional Artist Magazine (formerly Art Calendar) and is a contributing editor.
The artist shares her work regularly online at her website and Painting a Day blog. A wife, mother and grandmother, she currently lives and works in north Idaho.
View OPA Blog articles by Brian Steck