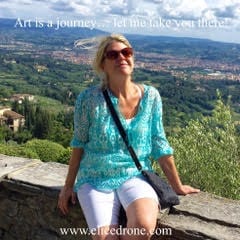 "I've always been influenced by the power of images to express ideas and emotions. Painting is a process of discovery and decision making where disparate elements pull together until the image is clearly expressed. Ultimately my concerns are with the expressive qualities of light captured with paint. Contemporary Impressionism best describes my style."
Eli Cedrone is an international artist living in Bermuda. A graduate of the School of Art & Design, (Suffolk University) in Boston, Cedrone studied in Florence, Italy, The Museum of Fine Arts School and at the Academy of Realist Art, Boston. She began her career in Bermuda, at Saatchi & Saatchi Advertising, followed by work as an art director and illustrator in Laguna Beach, CA. She returned to Boston in 1996 and began her career as a professional artist and instructor.
Cedrone has won numerous awards including Portrait Society of America, Oil Painters of America and International Artists. She is the recipient of several residencies and fellowships and has participated in juried invitationals in the US and abroad. She has attained the level of Copley Master at the Copley Society of Art, Boston. Her work has been featured in Plein Air, Fine Art Connoisseur and International Artist's Magazine. Cedrone is also a popular workshop instructor in the US and internationally.
View OPA Blog articles by Ms. Eli Cedrone