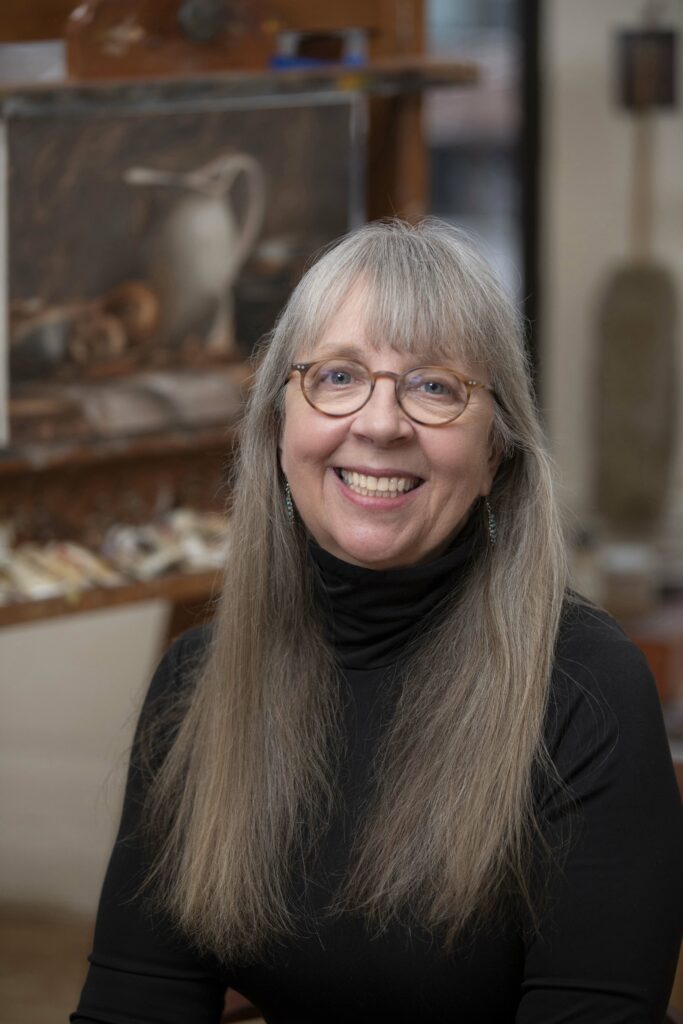 Ellen Buselli, OPA, has collected recognition and awards from the Oil Painters of America, Art Renewal Center, Portrait Society of America, Plein Air Magazine Salons, International Artist Magazine Competitions, Butler Museum of American Art, FASO BoldBrush Award, American Women Artists, Allied Artist of America, Salmagundi Club, and the National Academy of Design. Her work has been featured in national magazines including International Artist, American Artist (Cover), The Artist's Magazine (Cover), American Art Collector, Western Art Collector, and Plein Air Magazine.
After study at the Tyler School of Art in Rome, Italy, and graduating from Cornell University with a BFA degree, Buselli attended the Art Students League of New York. She paints from her north light art studio in an old brownstone built in 1890 which mirrors her love of the last-turn-of-the-century paintings and traditional art practices. Her careful observation of light and shadow, form, edges, values, and color evoke a calm classical order, and a sense of timelessness in her work.
In addition to still-life and floral painting, Buselli also paints portraits, pet portraits, plein-air landscapes, and the figure. She is a Signature Member of OPA, Master Signature Member of AWA, Lifetime Member of the Art Students League, member of Portrait Society of America, American Impressionist Society, Plein Air Painters of New Mexico, and the Salmagundi Club.
SELECTED EXIBITIONS, AWARDS & DISTINCTIONS
Oil Painters of America, National Juried Exhibitions: 2021, 2020, 2019, 2018, 2009, 2007, 2003 Best Still Life Award, 2002 Richeson Silver Brush Award, 2000, 1999 Winsor & Newton Award of Excellence
Oil Painters of America, Virtuosos of OPA: 2019, 2015
Oil Painters of America, Eastern Regional Juried Exhibition, Anderson Fine Art, St Simons Island, GA 2017
Customs House Museum & Cultural Center, "Breaking Through: The Rise of Women Artists, American Women Artists – GRAND PRIZE WINNER, Clarksville, TN, 2022
Portrait Society of America, Members Competition, 6th Place Winner, Still Life Category, 2022
Portrait Society of America, Members Competition, Fourth Place, Plein Air Category 2021
Portrait Society of America, Fifth Place, Still Life Category, Members Only Competition 2020
Portrait Society of America – Finalist, Members Competition, Still Life Category 2018
Booth Western Art Museum, "Making Their Mark" a major museum exhibition, IGVideo Artist's Spotlight, "Iron & Glass", Cartersville, GA 2020
American Impressionists Society On Line Salons, 2020, 2021
American Impressionists Society, National Juried Exhibition, Illume Gallery, St. George, UT 2020
Plein Air Painters of New Mexico, National Exhibitions, 2018, 2019, 2020
Plein Air Painters of New Mexico, Taos Enchanted Circle and Blumenshein Museum Exhibition, 2021
Salmagundi Club, "Figuratively Speaking", portrait and figure painting, New York, NY 2020, 2019
Art Renewal Center, 2021, 2020, 2019, 2017 (2019 Exhibition MEAM Barcelona, Sotheby's LA and 2019 Staff Award – Daniel Graves Juror
Armory Art Center, Specialty Workshops (Pet Portraits) Invited Instructor 2020 Winter Session, West Palm Beach, FL 2020
RS Hannah Gallery, "A Tradition of Excellence", American Women Artists, Fredricksburg, TX 2019
Allied Artists of America National Juried Exhibition, Salmagundi Club, NY, NY 2019
Richeson Art Meritous Finalist Award – Figurative category 2019
The Haggin Museum of Fine Art, "Full Sun Exhibition", AWA Illuminate the Haggin Museum, Stockton, CA 2018
Butler Museum of American Art, 81st National Midyear Annual Exhibition, Youngstown, OH 2017
Bold Brush Award Winner, March 2016, FASO, Zoey Frank, Juror 2016
Principle Gallery, ROOT TO BLOOM Juried Exhibition, Alexandria, VA – Teresa Oaxaca-Juror 2016
Bennington Center of the Arts, American Women Artists 2016 Annual Show, Bennington, VT 2016
Arizona-Sonora Desert Museum, "Visions of the Southwest", Tucson, AZ 2013
Cheryl Newby Gallery, Pawleys Island, SC – representation 2007 – present
Cheryl Newby Gallery, "Classical Realism", One Woman Show, Pawley's Island, SC 2007
Anderson Fine Art, St Simons Island, GA – representation 2017 – present
Gardner Colby Gallery, Martha's Vineyard, MA – representation 2005-2008
Merrill Gallery, Spring & Fall Invitationals, Denver, CO – representation 1998-2001
One Woman Show/Invited Guest Artist and Instructor/Patron's Gallery, Salmagundi Club, New York, NY 2010
Southwest Gallery, American Women Artists Annual Exhibition, Dallas, TX 2010
Galerie Gabrie, American Women Artists Annual Exhibition, Pasadena, CA
Le Kae Gallery, American Women Artists, Scottsdale, AZ – Masters Choice Award 2007
Addison Gallery, "Recent Paintings – One Woman Show", Boca Raton, FL 2007
Meyer Gallery, Group Exhibit, Scottsdale, AZ 2004
McLarry Fine Art, "All That is Beautiful", and AWA 6th Annual Exhibit, Santa Fe, NM 2003
Columbine Gallery, American Women Artists 5th Annual Exhibition, Santa Fe, NM – Best in Show Award 2002
National Academy of Design 175th Annual Juried Exhibition, New York, NY 2000
The Red Piano Gallery, "Three Painters", Hilton Head, SC 1992
Fine Arts Museum of Long Island, Artists Under 30 Get A Showcase, NY Times Review 1990
SELECTED ARTICLES & PRESS AWARDS
Customs House Museum & Cultural Center, Clarksville,TN, Grand Prize AWA Youtube Ceremony, 2022
Booth Western Art Museum, Cartersville, GA, Artist's Spotlight Video, 2020
International Artist Magazine, "Paint to Finish", Feature 10 page article, Feb/March 2020 issue
International Artists Magazine, Finalists and features: Floral and Garden Challenge, Feb/March 2019 issue, Favorite Things Challenge April/May 2018 issue
Plein Air Magazine Salon Finalist: Best Floral Award, March 2020 Issue
Plein Air Magazine Salon Finalist: Best Building Award, Aug/Sept 2018 issue
American Artist, "Complete Guide to Flower Painting", by Naomi Ekperigin, Fall 2011
Western Art Collector, "Celebrating Women in the Arts", American Women Artists Preview, October 2010
American Art Collector, May Art Show Preview, "OPA 18th Annual National Juried Exhibition of Traditional Oils", May 2009
American Artist, "Morandi's Influence on Contemporary Still Life Painters", December 2008
American Artist Online, "How to Set up a Still Life", by Naomi Ekperigin, October 2008
American Artist, Cover and Feature, "Observing Carefully, Thinking Abstractly, Painting Traditionally", by Linda Price, Jan 2008
American Artist, "70th Anniversary Winners, Oil First Place – Ellen Buselli", by Karen Stranger Johnston, December 2007
American Art Collector, "Floral Geometry", by Joshua Rose, Feature article, November 2007
The Artist's Magazine, Cover and Feature Article, "Front & Center", by Tom Zeit, January 2005
View OPA Blog articles by Ellen Buselli