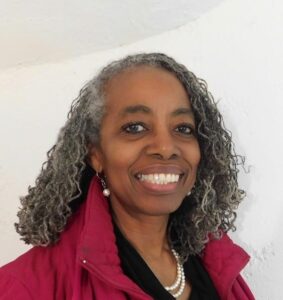 Jacqueline Chanda is a painter who is not confined to only one theme.  She prefers to vary her subject matter, thus allowing her to explore different visual questions.  Though oil is her favorite medium, she also works in gouache, ink and mixed media.  Her work is realistic in the sense that objects are recognizable, but they are seen through the interpretation of her painterly and loose brushstrokes.   All of her work explores her personal experiences in her surroundings, whether it is a series of figurative works, landscapes, birds, cityscapes or shoes.    She always looks for the beauty in things and people and seeks to express the emotions found within.
Born in Detroit Michigan, Jacqueline's talent for drawing was discovered when she was seven years old.  From that point forward her family provided art materials as birthdays and Christmas gifts.  She received scholarships for four years to attend the Art Center Los Angeles for drawing when she was in high school.  From there, a scholarship took her to UCLA where she studied painting and drawing and obtained her undergraduate degree.  During her time at UCLA, she had the privilege of studying with Richard Diebenkorn who has been a great influence on her approach to painting.  Graduate school led Jacqueline to Paris, France, where she studied visual arts, art education and plastic arts, theory and aesthetics at the National School of Art and then at the Sorbonne University.  While in graduate school at the Sorbonne, she worked in the Académie de Port-Royal, a painting 'atelier' run by the artist Claude Schurr.  During this period she exhibited, at the Grand Palais, at the Galerie Louis Soulanges, and in other group exhibitions selling her artwork along the way.  Upon graduation, her attention turned to building her academic career in art education through teaching, research, writing, and publishing.
After 28 years of art education teaching and higher education administration, she decided to return to her initial love, making art.   Exploring her creative side and pursuing her own art making is now her passion.  Since focusing full time on her own art production, she has been very active and productive.  She was the recipient of a Professional Development Grant, from the Arizona Commission on the Arts that supported her participation in an artist residency program in Vallauris, France.   She has participated in several exhibitions at local, national and international levels. These include invitational, juried group shows and solo exhibitions.  Some of the more notable ones are; group juried shows at the Grand Palais in Paris, France; the Mildred M. Cox Gallery in Fulton, MO; the Dedo Maraville Fine Arts Gallery, Valdosta, GA; Toscana Gallery, Oro Valley, AZ; the Rembrandt Yard Gallery in Boulder, CO; and the Contreras Gallery in Tucson, AZ.  Her solo shows have taken place at the Joel Valdez Main Library in Tucson, AZ; the Pima Association of Government Gallery, in Tucson, AZ; the 2010 Gallery in Prairie Village, KS; Caffe Luce, Tucson, AZ; and the Galleria Gallery at the YWCA, Tucson, AZ.  She has received two honorable mention awards over the past year and her work has appeared in the Cliente Magazine, Sonoran Arts Network, art review, and the Tubac Gallery guide.
View OPA Blog articles by Dr. Jacqueline Chanda