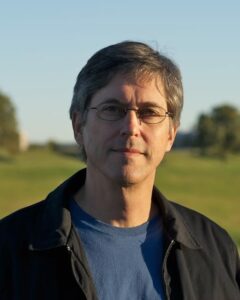 James E. Tennison graduated from the Art Center College of Design in Pasadena, California in 1982. He cites his time at Art Center, where he studied under such artists as Dan McCaw and John Asaro, as his most formative educational experience. After graduating, he spent several years as a freelance illustrator, eventually making the transition from illustration to portraiture and fine art.
Inspired by local geography, neighborhoods and landmarks in his hometown of Fort Worth, Texas – as well as subjects he finds on his travels – James seeks to paint the beauty he sees all around. What really excites him is the effect of light – sunlight and shadow – and the colors that can be seen in shadows and reflected light if one looks closely.
Tennison's paintings have been exhibited in galleries throughout the United States, including the Salmagundi Art Club in New York City, the Legacy Gallery in Scottsdale, Arizona, Howard/Mandville Gallery in Kirkland, Washington and Galerie Kornye West in Fort Worth, Texas. He has participated in many group shows and competitions and has had a one man show titled "A Year In Fort Worth".
His portrait commissions have taken him across the United States and to England. His commissions include the official portrait of former Texas Governor Ann Richards, which hangs in the state capitol in Austin. He has painted portraits for Harvard University, Southern Methodist University, Texas Christian University, The National Cancer Institute, the New York County Lawyer's Association as well as many other public and private collections.
His awards include the Salmagundi Art Club Purchase Prize, the People's Choice and First Honor Awards at the Portrait Society of America's International Competition, the RayMar Art Competition Best of Show Award and the Oil Painters of America Online Showcase Silver Medal.
Awards include:
2014 Portrait Society of America International Portrait Competition – Finalist and Award of Excellence
2013 Oil Painters of America Fall Online Showcase – Silver Medal
2013 RayMar Art Contest, Best of Show and Multiple Finalist
2012 Salmagundi Club New York, Salmagundi Club Purchase Prize
2012 Portrait Society of America International Portrait Competition – Top Ten Finalist and Honor Award
2011 Salmagundi Club, Margery Soroka Memorial Award for Watercolor
2011 Galerie Kornye West 10th Annual Invitational Show – People's Choice Award
2010 Portrait Society of America – Certificate of Excellence Award
2010 Society of Watercolor Artists – Honorable Mention
2007 Portrait Society of America International Portrait Competition – Certificate of Excellence Award
2003 Portrait Society of America International Portrait Competition – First HonorAward and People's Choice Award
View OPA Blog articles by James Tennison