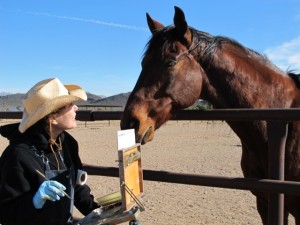 Artist Statement
I have spent a lot of time in the last few years traveling the globe, experiencing new cultures, sights and ideas In my travels I've experienced a change of climate, of cultures, of altitude, and of course a change of scenery.
For me, art and travel have a lot in common. Both offer opportunities to experience the excitement of the mysterious as well as the comfort to be found in collecting the familiar. Lately I see each new scene as a still life: a moment in time, in my life, that I want to "freeze" so that I can continue to enjoy it long after the sun has set, the boat has drifted by, the blooms have faded. And, of course, I want to share these moments of life–in whatever part of the world I happen to be–with others. I hope you enjoy my "still moments" of life.
Biography
After twenty five years as a nationally recognized graphic designer, illustrator and portrait artist, Jane Barton's paintings pay tribute to the best designer of them all, Nature, with images of vast landscapes, colorful figures and intimate still lifes.
Originally from Chicago, where she studied at the American Academy of Art, Jane holds a B.A. from Boston University and an M.A. from Syracuse University. Jane is the recipient of many national design awards and her work can be found in corporate and private collections.
Professional Associations
Tucson Plein Air Painters Society (TPAPS), Signature Member
Oil Painters of America, Associate Member (OPA)
Laguna Plein Air Painters Association (LPAPA)
American Impressionist Society (AIS)
American Women Arttists (AWA)
Recent Publications
"Following Big Footsteps in Italy," Plein Air Magazine, March 2012
"Illustrating and Painting the West," Fine Art Connoiseur, June 2012
Contact
www.janebartonstudio.com
jane@janebartonstudio.com
View OPA Blog articles by Ms. Jane Barton