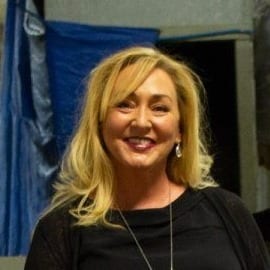 Julianna O'Hara started oil painting at age 11 and has been exploring her artistic pursuits ever since. She studied art at UCLA, USC, Santa Monica College, and Brentwood Art Center in Santa Monica, California.
Currently residing near Monterey, California, Julianna is affiliated with various art organizations. She paints almost daily and works primarily from life. She only paints what she loves. She has to be moved in some way to put paint to canvas; and luckily, many things move her. Although she has worked in other mediums such as acrylic, watercolor, gouache and "mixed", she is most passionate about oil painting. Lately, she is particularly interested in capturing the beauty of interior still life scenes composed of family heirlooms and flowers from her garden. She has been known to spend as much as three weeks designing a still life set up. Her concentration right now is to excel as a fine Intimist artist, and she is enjoying the exploration of interior analogous scenes. Julianna has paintings in private collections in the US, UK, Asia, Australia and Germany.
Julianna's paintings are easily recognizable for their vibrancy of color, texture, and expressiveness of brush strokes.
AFFILIATIONS:
Oil Painters Of America Associate Member
American Impressionist Society Associate Member
Central Coast Art Association Monterey, California
National Oil & Acrylic Painters Society Associate Member
Central Coast Plein Air Painters Monterey, California
San Benito Arts Council Associate Member
American Women Artists Associate Member
MOST RECENT AWARDS:
– BEST IN SHOW – OVERALL – ALL MEDIUMS – October 2019 – "Bluetiful And Lemons" October 2019 – 2nd PLACE PROFESSIONAL
– OIL/ACRYLIC DIVISION – San Benito Fine Art Fair – "Bouquet In The Window" October 2019
– 1st PLACE PROFESSIONAL -OIL/ACRYLIC DIVISION – October 2019 – "Bluetiful And Lemon"
– 2nd PLACE PLEIN AIR – San Benito Fine Art Fair – San Benito County – October 2019 "Table In My Garden"
– SECOND PLACE FLORAL – San Benito Fine Art Fair – San Benito County – October 2019 "Sunflowers On Silk Cloth"
– FIRST PLACE FLORAL – "Lilacs In Purple Vase" – San Benito Fine Art Fair – October 2019 "Lilacs In Purple Vase"
– AWARD OF EXCELLENCE – Guerrilla Painter Award "Painted Journeys of Monterey County" exhibit "My Crooked Tree" August 2019
– HONORABLE MENTION – "Toast To The Coast" Art exhibit September 2019 "Lunch at Nepenthe"
– BOLDBRUSH PAINTING COMPETITION AWARD FAV 15% – May 2019 "Supercilious Spoon"
– BOLDBRUSH PAINTING COMPETITION AWARD FAV 15% – May 2019 "Lilacs In Purple Vase"
– 1st PLACE – VITAL Art Sessions Annual Competition (juried by Gregg Kreutz), December 2018
– MUSEUM OF MODERN ART EXHIBIT (MoMA) NYC: Coursera Post War Abstraction Exhibit -Featured Artist- January 2018
– BOLDBRUSH PAINTING COMPETITION AWARD FAV 15%– November 2018
– 1st PLACE OIL PAINTING SAN BENITO FAIR COMPETITION – September 2017
– 2nd PLACE SAN BENITO FAIR THEME AND OIL PAINTING COMPETITION – September 2017
– BEST FLORAL OIL COMPETITION – ALL LEVELS AND MEDIUMS – San Benito – September 2015
– MOST ORIGINAL SAN BENITO OIL COMPETITION – September 2014
– BEST IN SHOW FINE ART COMPETITION – ALL CATEGORIES-SAN BENITO COUNTY ART September 2013
Contact Information: Julianna O'Hara (831) 265-6194 juliannaohara@gmail.com www.juliannaohara.com
View OPA Blog articles by Julianna O'Hara