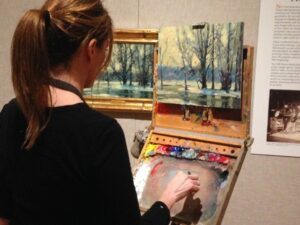 Kami Mendlik grew up just north of Stillwater, MN on the family land where her daily wanderings taught her to have a great love and respect for the qualities of the natural world that later provide her with the inspiration which has led her on a lifelong journey as a painter. As part of her journey she has studied with some of the country's finest painters, and for the last fourteen years she has been actively teaching plein air and representational oil painting classes and workshops through the The St Croix River School Of Painting as well as other art schools and venues throughout the United States and Italy.
In 2008, Kami started and founded the St Croix River School of Painting in Stillwater MN where she teaches the fundamentals of representational painting with a special emphasis on color.  In January of 2014 she purchased a 16 acre farm just North of Stillwater, where she converted a 100 year old hip roof barn into her studio and the St Croix River School of Painting's new location.  The property has become a great source of inspiration for countless painters.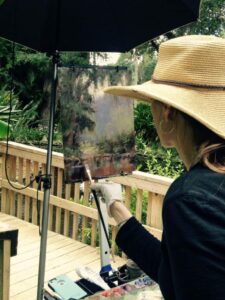 Kami's work has been in numerous International, National, Regional, and Solo shows and exhibitions such as (partial listing) OPA – Oil Painters Of America National and Eastern Regional Exhibitions, AWA – American Woman Artists Juried Exhibition, Field Artist in Plein Air Magazine's 4th Annual Plein Air Convention and Expo, Carmel CA. , Plein Air Smack Down Guest Painter- Groveland Gallery, "Moments", a solo exhibition at the Phipps Center for the Arts in Hudson WI; The National Juried American Impressionist Society Exhibition, and the Door County Plein Air Festival Featured Artist in Door County WI.
"I am driven by my endless curiosity to study and capture color with paint. The source of my inspiration is the simple scenes in life, primarily the natural world. I am constantly dancing the dance between passion and intellect while painting. I observe, I study, I think, I respond, I paint – it's my language."
View OPA Blog articles by Kami Mendlik