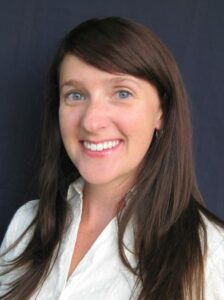 Kirsten Savage is one of Northern Colorado's top representational artists best known for her work in conceptual realism and figurative oil painting. As a student at the prestigious Maryland Institute College of Art she studied Illustration and Literature, fascinated by the written narrative and visual communication.
After moving from Baltimore to the Front Range of Colorado, Kirsten found her love for the outdoors while leading a trail crew on Rocky Mountain's 14,000′ peaks. For three consecutive summers she lived in a tent and worked on trail maintenance and conservation projects above tree-line. Kirsten now backpacks all over the high alpine country and Southwest desert to seek inspiration for her artwork.
Her style evolves from a more painterly approach for her field studies into meticulously detailed representation for her studio work. The oil paintings focus on concepts that inspire critical thinking and personal reflection, offering challenging opportunities for the viewer to probe into Kirsten's creative vision. The single figure creates a world unto itself and the beauty of every day is captured in simplified landscapes and still lives. The result is a unique style that is accessible and inspirational.
View OPA Blog articles by Kirsten Savage