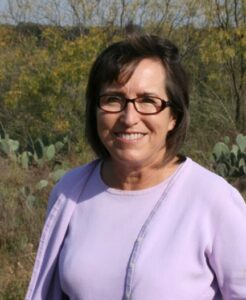 Laura Lewis is a landscape artist from Lubbock, Texas who paints the High Plains of Texas. Laura has enjoyed creative work since childhood. A self-portrait assignment in the third grade stands out as her first awareness that she had a gift for drawing. She pursued art instruction throughout her teen years, and had the good fortune to study portraiture under renowned artist Glenna Goodacre.
At the beginning of her college years, Laura majored in art, but then she finished in the health sciences and had a long career in that world. Throughout her years in the medical arena, Laura continued to paint portraits, learn print making techniques, and study with accomplished artists such as Paul Milosevich and Carroll Collier. She has been a full time professional artist since 2001, and has continued to study by taking workshops with artists, such as George Strickland, Matt Smith, and Camille Przwodek.
Portraying the rugged beauty of the High Plains of Texas is the most gratifying challenge to Laura's artistic gift. Several of her landscapes hang in the Texas State Capital building in the office of State Representative John Frullo, and in the offices of the Texas Supreme Court. An article on her painting strategies appeared in the February 2009 issue of American Artist Magazine and she was included in a special American Artist publication, The Complete Painter's Handbook.
Laura has received numerous awards including two from national juried shows, and has twice been juried into the Western Regional Exhibition of Oil Painters of America. She is one of the Contemporary Texas Regionalists, a group established by William Reaves Fine Art in Houston, Texas. She is also represented by Southwest Gallery in Dallas, Weiler House Fine Art in Fort Worth, Fredericksburg Art Gallery, and at Frame Mart and Gallery in Lubbock, Texas.
View OPA Blog articles by Mrs. Laura Lewis