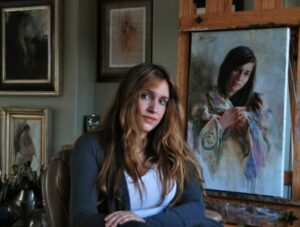 Michelle Dunaway is a professional artist living in New Mexico and has been drawing for as long as she can remember. As a young child she was captivated with drawing people and that focus continues to this day. "I've always been intrigued with drawing faces and hands, also capturing the essence of the human spirit fascinates me, whether it is found in the graceful movements of the human form or the eyes of the model. There is a whole story waiting to be found and revealed through the brush."
She credits her mother's creative influence and her upbringing in Alaska as fueling her artistic imagination. "My mother was always doing something creative, whether painting, wood carving, or stained glass… there were always art books around the house and she encouraged me to do charcoal drawings at around the age of seven. I think growing up in Alaska gave me a love of color and also, growing up in such an untamed wilderness made me aware of all the beauty that is in the everyday. My Father and I always went on adventure hikes in the wilderness, taking the 'path less traveled.' I think that really gave me a joy of the process of discovery that translates into the creation of art. For me, the most profound stories are found in the simplest moments. That is something I aspire to convey in my paintings."
Michelle moved to New Mexico in her teenage years and studied at Art Masters Acadamy with artist Lou Maestas where she first learned to work with oils and paint from a live model. Michelle then went on to attend the prestigious Art Center College of Design in Pasadena California where she attained a solid foundation in drawing and anatomy, studying with teachers such as Steve Huston. Afterward, she returned to New Mexico and began to teach as well as receive numerous portrait commissions.
In her mid 20's Dunaway lived on the East Coast while doing a commissioned sculpture. While there, she was exposed to paintings of the great masters such as John Singer Sargent, Jules Bastien-Lepage, and Cecilia Beaux at the Metropolitan Museum of Art in New York. "It was a pivotal time for me," Dunaway recalls, "seeing these originals for the first time, I knew that I wanted to focus my passion on representational painting."
Dunaway sought out the instruction of contemporary masters such as Morgan Weistling and Jeremy Lipking, whom she credits as having great influence on her approach. "I feel blessed to have such talented and dedicated artists as friends and mentors who share so generously of their knowledge. I think that's why I've always been moved to teach as well, it's important to pass on the wisdom …"
She has lived and worked in California, teaching at the renowned California Art Institute in Westlake Village and at the Los Angeles Academy of Figurative Art.
Dunaway was a top finalist in the Portrait Society of America's International Portrait Competition in 2010, where she won the Award of Exceptional Merit for her double portrait of the daughters of actress Jane Seymour.
Michelle was featured in Southwest Art magazine's "21 under 31" issue as one of the twenty-one emerging fine artists of the United States. Her paintings and drawings have been featured in Art ot the West magazine, American Art Collector magazine, Southwest Art, International Artist and American Artist Workshop. Michelle's drawings are included in the book Strokes of Genius 2: The Best of Drawing Light and Shadow.
Dunaway is represented by The Legacy Gallery in Scottsdale, AZ and Jackson, WY, Sage Creek Gallery in Santa Fe, NM, M Gallery of Fine Art in Charleston, SC and InSight Gallery in Fredericksburg, TX. Her work is in numerous private collections.
View OPA Blog articles by Michelle Dunaway