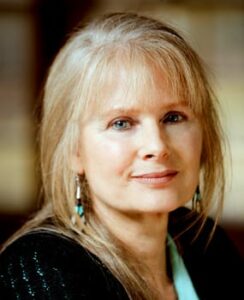 Nancy Howe OPAM is a self-taught artist who began developing her art seriously in 1988 from her rural studio in Vermont. Her paintings in oils exhibit a refined quality of realism and quiet presence that emphasize light and strong design. They span the range of subject matter from animals and birds, to landscape, still life, and figures.
In 2007 Howe created a fundraising project, "Painting a Brighter Future for Women", in partnership with The Boma Project, bomaproject.org. The project is a series of original oil paintings of the native pastoral nomadic people of northern Kenya, and fine art giclee prints from these images, the sale of which benefit women in these communities. It expanded in 2011 to include other areas of the world, including Bhutan in 2011 and the Kuna Indians of the San Blas Islands of Panama in 2012.
Howe made history in 1990 by being selected as the first woman artist in the history of the U.S. Department of Interior's Federal Duck Stamp Program that was established in 1934, and her artwork became the design for the 1991-2 Federal Duck Stamp. She has been a signature member of the Society of Animal Artists since1992 and a Signature member of Oil Painters of America since 2002. Her paintings have become part of several museum permanent collections and been the recipient of numerous national exhibition awards. She has been a contributing artist in several art publications, including the 2001 Wildlife Art: Sixty Contemporary Masters and Their Work.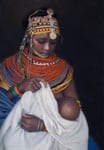 In 2003 she was honored by Oil Painters of America with the grand prize, the American National Award of Excellence, and in 2009 she was the recipient of the Gold Medal from Eastern Regional Exhibition of OPA. She has had work juried into the Leigh Yawkey Woodson Art Museum's international bird and wildlife exhibitions since 1990, and in 2005 was honored as Birds in Art Master Wildlife Artist. The artist also received the International Masters Award and Patron's Choice Award at the 2001 International Masters of Fine Art Invitational in San Antonio, Texas. As an invited artist for many years, Howe exhibited in the "Artists of America" show at the Colorado History Museum in Denver, CO and the "Great America Artists Exhibition" in Cincinnati Ohio.
View OPA Blog articles by Nancy Howe