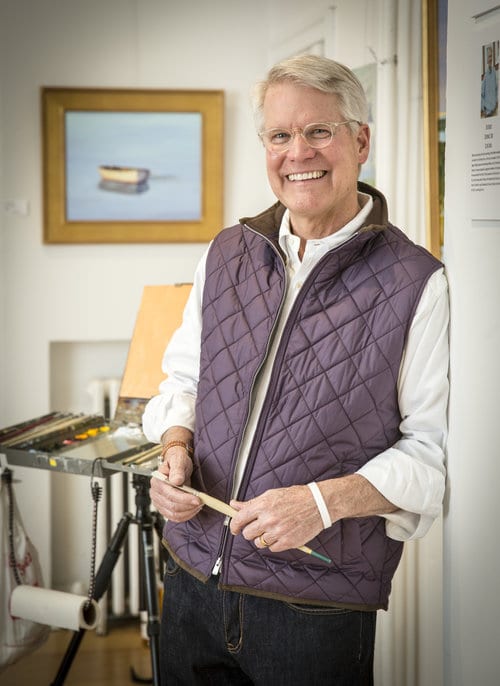 Rick Koehler, AIA began his painting journey at the tender age of 61. Since that time, he has won numerous awards as well as the hearts of his followers. His work is representational and yet impressionistic at the same time. "In the field of architecture, I had to be very precise, now I'm working to be very loose" says Koehler.
His instructors have had the most influence in this regard. They include, Lori Putnam, Chuck Marshall, Roger Dale Brown, Marc Hanson, Bill Fletcher and Mary Kay Hurley to name a few. "I listen to each of these tremendous artists, and I always take away at least one new concept to add to my pallet of principles on how to make the best painting I can".
Beside working in his native hometown of Terrace Park, which is a part of Cincinnati Ohio, he also spends a great deal of time in Northern Michigan, including Leland, Lake Leelanau, Glen Arbor and Traverse City. "The backdrop of that area is constantly changing with the seasons, and the light changes as well, so there is something new to paint each day, even if you've painted that same scene before" he adds.
Rick is an Associate member of the Oil Painters of America and the American Impressionist Society. He is a Signature Member of the Cincinnati Art Club and is a Board Member of the Womans Art Club of Cincinnati Foundation. Organizations which Rick belongs to include The Old Art Building in Leland, the Glen Arbor Arts Association and Crooked Tree Arts Center.
He won the People's Choice Award for the ViewPoint show in 2015, the Best of Show at the Hyde Park Art Show in 2016, the Best of Show at the Plein Air Leland event in 2017, and the People's Choice Award at that same event in 2019. "I truly believe that God blessed me with this talent and together with a lot of mentoring by terrific artists and hard work on my part, my work is being enjoyed by many people."
"As an artist, it has taken me some time to understand that we are painting light, and its effects on whatever the subject may be. I enjoy being outside whenever possible, but even in the studio I am fully immersed in my work. Every day in front of the easel is a new day and an opportunity to follow a new path with my painting decisions. I especially like the fact that you never stop learning in this new sport of mine."
Ricks paintings can be found at Caza Sikes Gallery in Cincinnati, Mullally's 128 in Elk Lake and Main Street Gallery in Leland or at his website www.rickkoehlerart.com.
View OPA Blog articles by Frederick Koehler