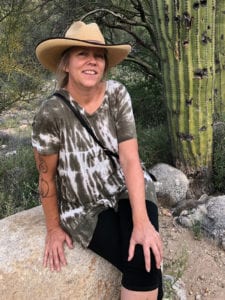 Even as a young child, Shelby Keefe knew she was an artist. Coming from a family of artists and crafters in rural Wisconsin, she was encouraged to draw and paint and always had plenty of inspiration for making her artwork. After earning her Bachelor of Fine Arts degree in 1981, she embarked upon a career in graphic design. Moving to Milwaukee for school opened a whole new world for her, and Shelby fell in love with the urban landscape.
Though most of her time was spent as a graphic designer and single mother of two boys, she was always passionate about painting and made time to create her work. By doing group exhibitions, art fairs, and commission work, she gradually gained the attention of enough collectors and was able to retire from graphic design in 2005 to work full-time as a fine artist. As her reputation grew, she became sought after as an instructor, teaching workshops around the country and serving as faculty for the annual Plein Air Convention and Expo.
A consistent award-winner, Shelby has participated in museum shows, top-tiered plein air painting competitions and has attained Signature Status in Oil Painters of America, American Impressionist Society, and American Women Artists. Her unique style has become noticed nationally, having been published in Southwest Art and PleinAir Magazines–both being honored as the cover artist. Gallery representation: Meyer Gallery, Santa Fe, NM; Oh-Be-Joyful Gallery, Crested Butte, CO; Fine Line Designs Gallery, Door County, WI; Turquoise Door Gallery, Telluride, CO.
Some recent achievements:
• Awarded Best of Show, Cedarburg Art Museum, Cedarburg, WI, 2019
• Western Art Collector "Best Body of Work Award" received at Cowgirl Up! Exhibition, Wickenburg, AZ, 2019
• Award of Distinction, American Impressionist Society National Juried Exhibition, 2018
• Received three awards for one painting at the 3rd Annual Olmsted Plein Air Invitational, Atlanta, GA, 2017
• Earned a Distinctive Merit Award, Laguna Beach Plein Air Invitational, Laguna Beach, CA, 2016
• First Prize Winner-Quick Draw, Plein Air Easton! Easton, MD, 2016
• Grand Prize Winner, EnPlein Air Texas, San Angelo, TX, 2015
• Awarded $20,000 Dorothy Dreihaus Melins Fellowship for Midwestern Artists, at Oil Painters of America National Exhibition, 2015
• Featured Artist/Cover Artist, SouthwestArt magazine, March 2015 issue
• PleinAir Magazine Salon Competition Grand Prize Winner, 2013
View OPA Blog articles by Shelby Keefe