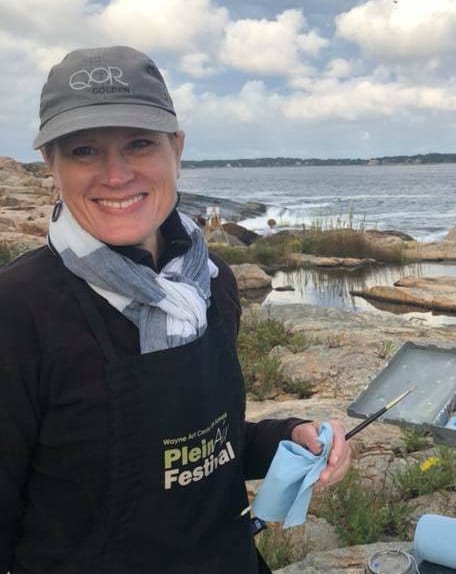 A nationally recognized artist, Susan Lynn's paintings are frequently described as poetic, lyrical, luminous and serene. Whether focusing on landscape or still-life, she believes that nature is a subject that speaks to the viewer in a visceral way, tapping into universal memories, emotions and the human connection to the world around us. After a 15-year career in the field of architectural illustration, fine art painting became her primary focus. She found the world of architectural illustration to be a fantastic training ground for a realist painter, demanding a thorough knowledge of perspective, and a constant study of light, shadow, and color. Susan creates her paintings both in studio and "en plein air", participating in many of the top plein air events around the country. While an accomplished watercolorist, in recent years she has added oils and acrylics to her repertoire, expanding the creative possibilities of her work.
Lynn's most recent awards include the award for Distinguished Achievement in Landscape Painting for her work in "Looking West: An Exhibition Highlighting the Works of American Women Artists" at the Steamboat Art Museum in 2019, as well as the 2019 Ogden Pleissner Memorial Award from the historic Salmagundi Club New York, where she is an elected Artist Member.
Currently, you may find her work on exhibit in the Cowgirl Up! Exhibition at the Desert Caballeros Western Museum in Arizona, and in the American Impressionists Society AIS Small Works Showcase at the RS Hanna Gallery in Fredericksburg, Texas.
In 2019, Lynn opened her own gallery, the Susan Lynn Gallery & Studio, located at 79 Main Street in Rockport, Massachusetts. Sign up for her newsletter at susanlynnstudio.com to enjoy updates on her latest work and insights into her painting process. You may also follow Susan's work online on Facebook (Susan Lynn Studio) and Instagram (@slynnpainter).
View OPA Blog articles by Ms. Susan Lynn