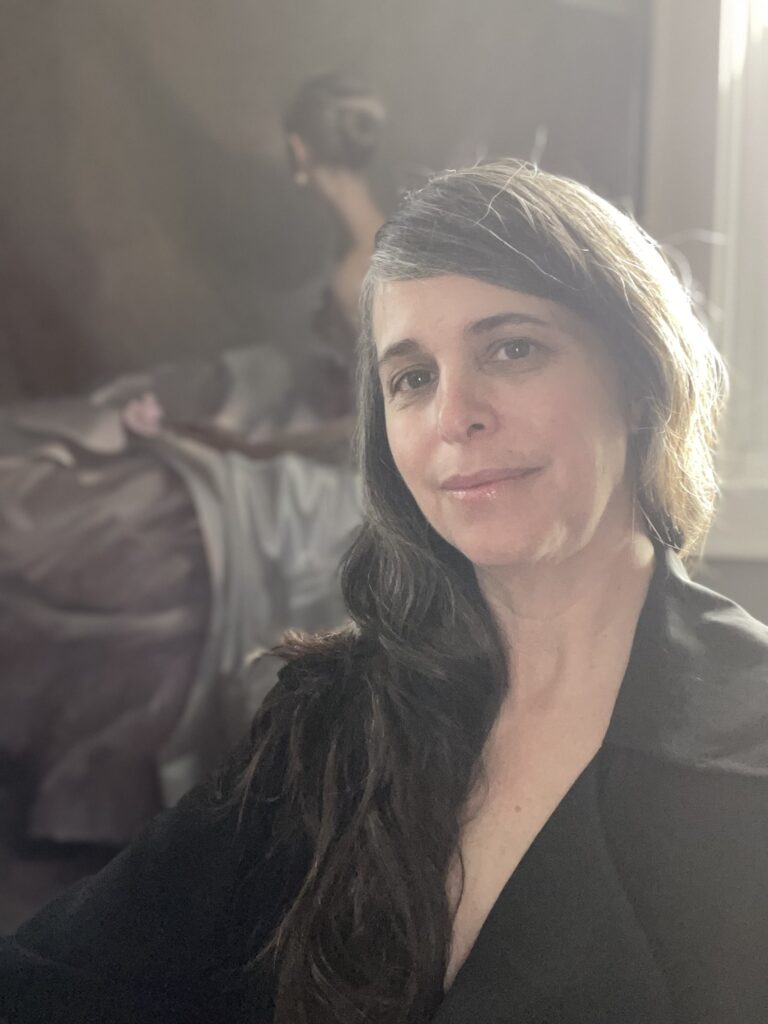 Tina Garrett
b. 1974
Tina Garrett is one of the most well recognized women artists in Contemporary Western Art. Her works center on emotion and mood, and they often contain dramatic light or atmospheric effects. Her works tend to carry with them an undefinable reverberation, haunting and laced with mystery. As a professional Contemporary Representational artist, Tina has earned recognition as an Art Renewal Center Living Master, (ARCLM) and holds a Master Artist designation from the National Oil and Acrylic Painters' Society. From 2017 to 2021 Tina was a proud State Ambassador for the Portrait Society of America and she is honored to be a mentor for the PSoA Cecilia Beaux Forum Mentoring Program.
Education and Teaching:
Tina holds an Associate of Applied Science in Visual Communication from the Colorado Institute of Art Denver. She has studied intently in the Selective Start Method described in Alla Prima by Living Master Artist and author Richard Schmid, and was inducted as a Putney Painter in 2020. Tina studied in workshops and/or in private lessons with Romel de la Torre, Casey Baugh, Aaron Westerberg, Jeremy Lipking, Dennis Perrin, Michelle Dunaway, Stanka Kordic, Kathy Anderson and Daniel Keys.
Teaching is also of primary importance to Tina. She says, "I have found my bliss in teaching. It is an absolute delight when a student reaches a milestone of understanding. To have any student surpass me in my skill and success and look back and say, 'Thank you, Tina, for all you taught me,' that would be sublime. Because if I learned one thing from the great master of our era, Richard Schmid, it is that we do not own this information. All artists have a responsibility to pay forward what they know and assure that the next generation of artists has the tools to make great art."
Tina teaches oil painting across the US and abroad at fine art ateliers such as the Scottsdale Artists' School, Denver Art Students League, Village Arts of Putney, Women of The Arts Club Fort Worth, Oklahoma Academy of Classical Art, Atelier Protégé Alabama, The Florence Studio, Italy, Dutch Atelier of Realist Art in the Netherlands and Rosemary & Co. Brushes Workshops in Yorkshire, The Royal Art Society of N.S.W in Sydney, Australia. Tina produces and publishes her instructional oil painting videos, available at TinaGarrett.com and streaming through Fine Art Studio Online/BoldBrush. Tina is also sponsored by Rosemary & Co. Brushes, which offers the Tina Garrett Brush Set. Tina is also a proud Gamblin Colors Dedicated Workshop Instructor. In addition Tina provides her own monthly, paid mentorship programs to artists in six countries for critiques, including painting and drawing techniques and artistic and career development.
Recognitions & Representations:
Tina's works have received recognition by major art organizations with awards such as the Art Renewal Center Fashion Week San Diego Award, where FWSD designer Kristin Conrad from Moondust Concepts, created an original couture outfit and look inspired by her work Bravado. Over the last 10 years she has also been awarded three ARC Salon Purchase Awards; Women
Artists of the West National Exhibition (Best of Show) and First Prize Awards; Oil Painters of America Online Showcase 1st Prize and 3rd Prizes; Portrait Society of America Select 50 and 7th Honorable Mention; National Oil and Acrylic Painters' Society Awards of Excellence, 2nd
Prize, People's Choice and Most Innovative Awards; and the International Artist Magazine People and Figures Grand Prize Winner among others. Tina's work is represented by The Art Renewal Center, West Wind Fine Art, Highlands Art Gallery and Carstens Fine Art. Tina is proudly sponsored by Rosemary & Co. Brushes, RayMar Art and Fine Art Studio Online/Boldbrush.
Exhibitions:
Tina's works have participated in shows around the world including the 15th International ARC Salon Exhibition at Sotheby's NY, as well as previous ARC Salon Exhibitions at the European Museum of Modern Art, (MEAM) in Barcelona, Spain, and the Salmagundi Club, New York City. Her works have also participated in Figurativas and Mod Portrait at the European Museum of Modern Art (MEAM); Oil Painters of America National Exhibition at Cutter & Cutter Galleries; Portrait Society of America Members Only Exhibition; American Women Artists "Making Their Mark" at the Booth Museum of Western Art; Women Artists of the West National at the Museum of Western Art; the American Miniatures Show at Settlers West Galleries in Tucson, AZ; Urban Aspect Exhibition at Principle Gallery; and the Go Wild! Exhibition at Gormley's Galleries in Belfast and Dublin, Ireland.
Commissions:
Tina has created a growing family of private collectors and commissioned clients in the U.S., U.K., Netherlands and Mexico. To Tina, "There is no greater gift I can receive than another falling in love with my work so deeply that they must own it, bring my work into their home and make it a part of their daily lives. I truly do put so much of myself into each and every work, so loving it, giving it a home, that is the highest compliment."
Press and Resources:
Tina has been interviewed by numerous media outlets including International Artist Magazine, Southwest Art Magazine, American Art Collector Magazine, Art of the West Magazine, Fine Art Connoisseur, and Poets & Artists Magazine, as well as TV interviews with the Kansas City NBC and CBS affiliate stations and various podcasts. Her painting of Bravado, 2020, debuted as one of only 28 works selected for the first auction dedicated to Contemporary Representational Art at a major auction house since the rise of Modernism, Contemporary Realism: Important 21st Century Works, selling at Sotheby's NY in July of 2021. Tina is a contributing writer to Fine Art
Views, the Oil Painters of America Blog, and has contributed to the Art Renewal Center ARChives. In addition to writing articles, newsletters and blogs, Tina provides a free monthly online broadcast, a free student's Facebook group where artists can share their work for free critiques and Tina provides a discount for any artist who is or has a Military or Public Service Member.
Follow Tina on her blog or sign up for her monthly newsletters at www.tinagarrett.com.
This bio was written by
Kara Lysandra Ross
ARC Co-Chair and Chief Operating Officer and edited to fit this format. Click here to read the full bio.
View OPA Blog articles by Tina Garrett