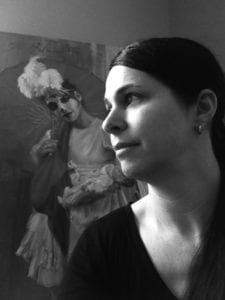 Tina Garrett is an ARC Associate Living Master whose works have been recognized by the Art Renewal Center, Oil Painters of America, Portrait Society of America and others. She teaches at dozens of venues across the U.S. and abroad including the Scottsdale Artists' School, Village Arts of Putney, Denver Art Students League, The Florence Studio Italy and the Dutch Atelier of Realist Art in the Netherlands. Tina is a proud mentor for the PSoA Cecilia Beaux Forum and PSoA State Ambassador for Kansas and Western Missouri as well as Faculty at the Portrait Society of America Art of the Portrait Conference. She teaches online workshops and offers critique and business level mentorships. Tina offers a free Q&A live broadcast once a month on Facebook which is open to anyone with art-related questions. Visit www.tinagarrett.com for more info.
Tina Garrett
b.1974
In 2012, after a career as a freelance cartoon illustrator and graphic designer, the Scottsdale Artists' School awarded Tina the first of two merit scholarships based on a handful of self-taught pastel portraiture, and she began learning how to paint, dedicating herself to the full-time practice of understanding oil painting. 
By 2014 Tina earned the first of two Purchase Awards in the 11th and 12th International ARC Salons. Tina's works, "City Blues" and "String of Pearls" are now part of the Art Renewal Center's renowned permanent collection. Tina's works have been recognized by The Portrait Society of America, Oil Painters of America, The International Artist Magazine People & Figures Grand Prize and many others. 
In 2015 Tina earned a designation of ARC Associate Living Master from the Art Renewal Center and a Master Artist designation from the National Oil and Acrylic Painters' Society and in 2018 Tina earned a FASO BoldBrush Signature Artist designation. Tina's works have participated in dozens of exhibitions alongside great works by artists Pamela Wilson, David Laffel, Arantzazu Martinez, Daniel Gerhartz, Nick Alm and others. 
Education and Teaching: 
In her work as a cartoon illustrator Tina received an Associate of Applied Science Degree from the Colorado Art Institute in 1994. To learn fine art oil painting, Tina has intently studied the Selective Start Method described in Alla Prima by Living Master Artist and Author Richard Schmid, studied in
workshops and private lessons with Romel de la Torre, and workshops with Casey Baugh, Aaron Westerberg, Jeremy Lipking, Tim Deibler, Michelle Dunaway, Stanka Kordic, Dennis Perrin, Kathy Anderson and Daniel Keys. 
Tina feels strongly the responsibility to impart the knowledge she has learned onto the next generation of artists and is therefore a prolific teacher. Tina teaches over a dozen workshops annually across the country and abroad at both private studios and art centers including the Scottsdale Artists' School, Village Arts of Putney, The Art Students League of Denver, Bountiful Davis Art Center, San Clemente California Art Supply, Oklahoma Academy of Classical Art, The Hull Art Academy, The Compass Atelier, and internationally in Tuscany and Florence, Italy, at The Florence Studio in 2017, '18 and '19. In 2020 Tina has been invited to teach at The Dutch Atelier of Realism in the Netherlands and Vicki Sullivan's Studio in Australia. Tina is scheduled to teach a workshop in the U.K. at Rosemary & Co. in 2022. Tina teaches four starting methods including Selective Start, Line and Value Block-In, Open Grisaille and Accurate Color Wash. Tina teaches artists how to paint from both life and photos in several workshop formats including The Starting Methods Workshop, The Flesh Tones Workshop, Secrets to Painting Children, Painting From Photos…How To It Right!, and The Figure Outdoors. 
In January 2019 Tina produced and published her first instructional oil painting video on USB Flash Drive available at TinaGarrett.com and streaming through Fine Art Studio Online/BoldBrush, Tina's most recent sponsor. Tina is also sponsored by Rosemary & Co. Brushes, which offers the Tina Garrett Brush Set. Tina is also a proud Gamblin Colors Dedicated Workshop Instructor. 
Tina is a proud State Ambassador for the Portrait Society of America helping both Kansas and Western Missouri artists fully benefit from their PSoA membership. Tina is also a proud Cecilia Beaux Forum Mentoring Program Mentor. In addition, since 2017 Tina provides a monthly, paid mentorship to artists in 6 countries for critiques, specific painting or drawing technique education and artistic and career development. Through an application process Tina ensures she is working with artists who are ready to commit to the rigorous and customized mentorship program and thrive as working artists. Tina's mentees are striving to make their best works, winning awards, teaching and writing on relevant art topics.
Tina is a contributing writer to Fine Art Views, the Art Renewal Center ARChive and the Oil Painters of America Blog. Tina publishes a blog and monthly newsletter, and has been featured in editorial coverage by Southwest Art Magazine, Fine Art Connoisseur, Poets & Artists Magazine and feature articles in American Art Collector Magazine, International Artist Magazine and Art of the West Magazine, as well as various podcast and television broadcast interviews. 
Awards, Designations, Memberships, Sponsorships & Exhibitions 
2021 
American Miniatures Annual Exhibition — Settlers West Galleries in Tucson AZ 
2020 
Art Renewal Center 15th International ARC Salon — Finalist in two categories 
Portrait Society of America Members Only Competition — Finalist in two categories 
Allied Artists of America 107th Annual Exhibition — Finalist National Oil & Acrylic Painters' Society Fall Online International — Finalist American Artists Professional League 92nd Grand National Exhibition — Finalist 
American Artists Professional League Elected Artist Member Portrait Society of America International Art of The Portrait Conference Faculty 
Portrait Society of America International Art of The Portrait Competition — Select 50 
The Royal Society of Portrait Painters 2020 Exhibition, London — Pre-Select Finalist 
Women Artists of the West 50th Jubilee National Exhibition — First Place American Women Artists Making Their Mark Exhibit at the Booth Western Art Museum — Finalist 
National Oil & Acrylic Painters' Society Spring Online International — Award of Excellence 
American Miniatures Annual Exhibition — Settlers West Galleries in Tucson AZ
2019 
BoldBrush Art Competition December 2019 Juror of Awards Portrait Society of America Members Only Competition Commissioned Portrait Category — Finalist 
The NOAPS Fall Online International — Finalist 
New Tang Dynasty International Figure Painting Competition — Merit Award Edge Pro Gear — Sponsored Artist 
Oil Painters of America Spring Online Showcase — 3rd Prize Award of Excellence in the NOAPS 2019 Spring Online International Exhibition Art Renewal Center 13th Annual 14th International ARC Salon — Finalist for three categories 
Salmagundi Club Annual Members Exhibition — Finalist 
Gateway International Painting Competition Juror of Awards March 2019 Pieces of Me Solo Show Exhibition, Bountiful Davis Art Center, Salt Lake City, UT 
Go Wild! International Group Exhibition with Pamela Wilson & Steven Da Luz, curated by Conor Walton, in association with Poets Artists — Gormleys Fine Art, Ireland 
Women Artists of the West — Juried Associate Member 
Gamblin Dedicated Workshop Instructor — Sponsorship 
2018 
The BoldBrush Award — an artist can only win this award once in a lifetime The 2018 NOAPS SPRING INTERNATIONAL ON-LINE EXHIBITION Finalist Gateway International Painting Competition January 2018 Best In Show ModPortrait at the Museum of Modern Art Europe (MEAM) in Barcelona, Spain Finalist 
Art Renewal Center 13th Annual ARC Salon Finalist for three categories BoldBrush Signature Artist Designation 
Gamblin Dedicated Workshop Instructor Sponsorship 
2017 
International Artist Magazine Challenge #98 People & Figures Grand Prize Winner 
Oil Painters of America 2017 Shirl Smithson Memorial Scholarship Oil Painters of America National Exhibition of Traditional Oils, Finalist Oil Painters of America 2017 Spring On-Line Showcase, 3rd Place
2017 NOAPS FALL INTERNATIONAL ON-LINE EXHIBITION Finalist 2017 National Oil & Acrylic Painters' Society "Holiday Small Works" Exhibit Finalist 
2016 
Portrait Society of America Members Only Competition Finalist National Oil and Acrylic Painters' Society Best of America 2nd Place Award Art Renewal Center 2016 ARC Salon Purchase Award and Finalist for two additional categories 
National Oil and Acrylic Painters' Society — Master Artist 
Galería Artlibré of Spain — Grand Autores 
Mod Portrait — Pablo Serrano Museum in Zaragoza and the MEAM in Barcelona 
2015 
Finalist in Scottsdale's The Best and The Brightest Show National Oil and Acrylic Painters' Society Best of America Best Oil Painting by a Signature Artist Award 
National Oil and Acrylic Painters' Society Best of America People's Choice Award 
Oil Painters of America Fall Online Showcase Third Place (Associate Member) 
Oil Painters of America National Exhibition Finalist 
Art Renewal Center 2015 ARC Salon Purchase Award 
Top 100 finalist, Figurativas2015 Museum of Modern Art Europe, (MEAM, Barcelona, Spain) 
Portrait Society of America Annual Members Only Competition 7th Honorable Mention 
2014 
Oil Painters of America Spring Online Showcase 1st Prize Urban Aspect Exhibition Juried by Jeremy Mann — Principle Gallery, VA Editor's Choice Artist To Watch — Southwest Art Magazine December Finalist in Scottsdale's The Best and The Brightest Show National Oil and Acrylic Painters' Society Best of America Most Innovative Award 
National Oil and Acrylic Painters' Society Spring Online International Excellence Award
National Oil and Acrylic Painters' Society Fall Online International Excellence Award 
2013 
Finalist in Scottsdale's The Best and The Brightest Show 
National Oil and Acrylic Painters' Society Best of America Southwest Art Magazine Merit Award 
Juried Memberships & Designations 
The Scottsdale Artists' School — RayMar Art John Dietrich Memorial Scholarship 
Art Renewal Center — ARC Associate Living Master 
Oil Painters of America — Associate 
Portrait Society of America — Associate 
Portrait Society of America — Ambassador for Missouri 
2012 
The Scottsdale Artists' School Merit Scholarship (where Tina attended her first oil painting instruction under Romel de la Torre)
View OPA Blog articles by Tina Garrett