B. 1950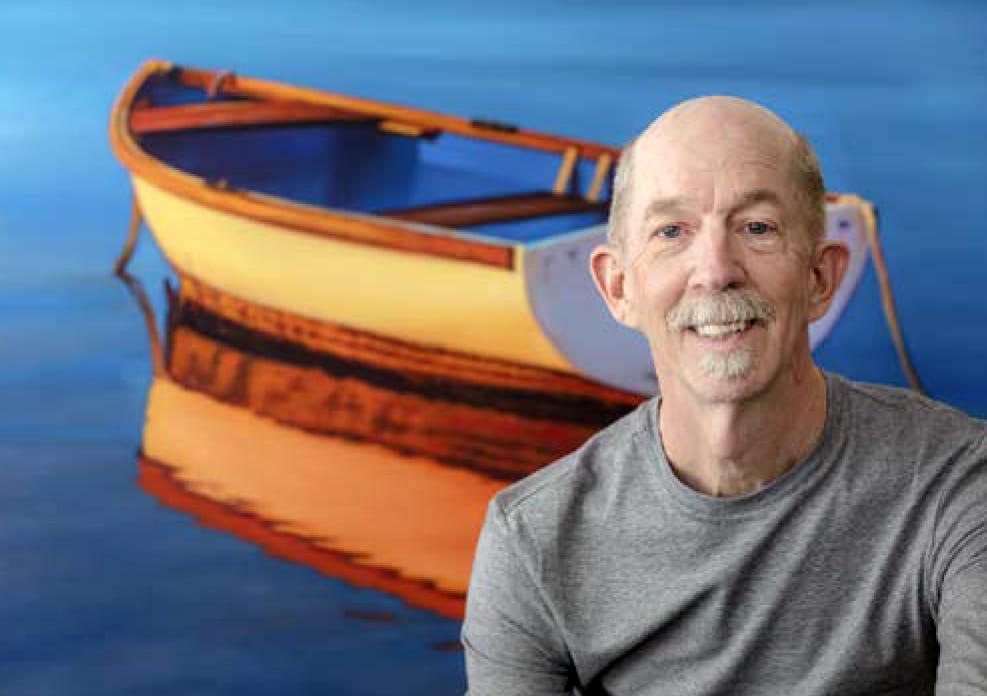 Member Oil Painters Of America
Member Laguna Plein Air Painters Association
President San Clemente Art Association
An artist whose life has been guided by many creative pursuits, Tom Swimm began painting at a very young age and developed his self-taught painting methods by experimenting with various techniques and by studying the great works of Van Gogh, Hopper, Gaugin, Cezanne and Monet.
The work of these artists provided the influence and inspiration that has guided Swimm on his own personal artistic journey.
Born and raised on the East Coast, Tom had a successful career as a commercial advertising artist in New York, and resettled in southern California with his wife and son in 1982. Inspired by the light and landscape of Laguna, he renewed his passion for painting, and was accepted at his first exhibition in the Festival Of Arts in 1988.
His paintings soon became recognizable for their exceptional use of light and color — a style that he continues to develop with each new work. To quote the artist: "Light is the most important aspect of my work, offering the ultimate challenge and reward. To capture its elusive qualities on canvas offers great personal satisfaction, and it's what I thrive on artistically."
To seek inspiration, the artist travels extensively, working from photos and sketches that he uses for reference, creating his original oils in his studio in Laguna Beach, California. With numerous exhibits and awards to his credit, his work is internationally collected and is also included in many important private and corporate collections. His methods have also been
published in many instructional books and he has mentored young children through programs sponsored by The Bowers Museum in Santa Ana, California; and the Boy's & Girl's Club of Laguna Beach, California.
Tom is also a published playwright, musician and screenwriter. His stage plays have been produced in Las Vegas, Seattle, Los Angeles and San Diego.
AWARDS:
Art Of California Bronze Award California Art Club 1990
Art Of California California Art Club 1991
Artist's Magazine Honorable Mention 1995
Echoes & Visions People's Choice Award 1997
Echoes & Visions Signature Award 1997
Artist's Magazine Still Life Award 2000
Coastal Arts Art Splash Honorable Mention 2004
International Artist 3rd Prize Seascape 2005
International Artist Master's Showcase 2006
San Clemente Art Association Best In Show 2012
City Of Laguna Beach 2nd Place Juried Exhibition 2014
San Clemente Art Association Honorable Mention Quick Draw 2014
San Clemente Art Association 3rd Place Paint San Clemente 2014
PUBLICATIONS:
American Artist Magazine Cover
West Ways Magazine Cover
Coast Magazine Cover
Southwest Art Feature Story / Seascapes
Walter Foster Oil Painting
Walter Foster Acrylic Painting
International Artist Master's Showcase
Paddy Platypus Children's Books
View OPA Blog articles by Tom Swimm