Like most of us, I loved drawing, painting and sculpture as a child but was strongly encouraged to study something "more practical." I got a psychology degree from Northwestern University but did not pursue that field.  I made chocolate truffles for the turn-down perks that some hotels provide – just so I wouldn't have to work in an office! Later I became a writer, and ultimately ran my own public relations and marketing company. I'm thrilled to have said goodbye to all that and work as a full-time artist. I'm now in Ridgefield, CT.
While still working, I studied alla-prima painting at the Palette & Chisel Academy in Chicago, IL and with Gregg Kreutz at the Art Students League of New York. I'm proud to call myself a representational artist and am inspired by so many excellent painters. David Leffel, Henri Fantin-Latour, Soren Emil Carlsen, Frans Mortelmans, and Frederic Edwin Church are favorites of mine. My paintings have been in local juried shows (Ridgefield Guild of Artists, Kent Art Association), and nationally, in the NOAPS Best of America Small Works Juried Exhibition, the NOAPS Spring Online International Juried Exhibition, the American Artists Professional League, and The Catharine Lorillard Wolfe Art Club.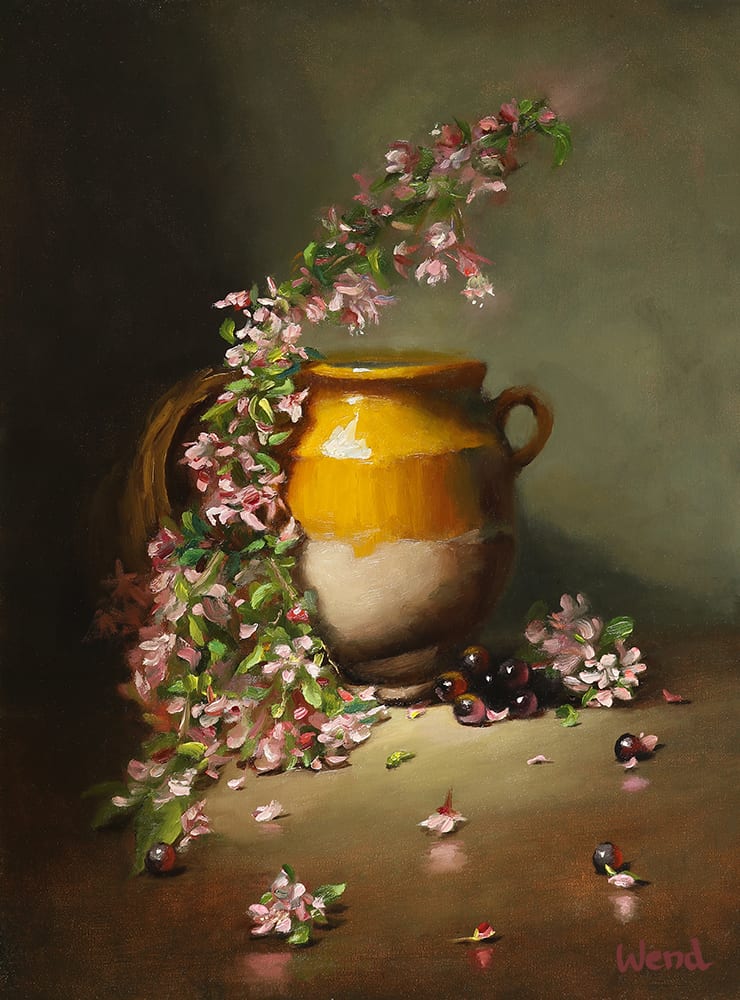 I usually paint from life and love to use some of the old master techniques. Lately I've been focusing more on still life, but I feel compelled to paint plein air in the warmer weather. I love both equally. Almost anything can send me around the bend… cool, atmospheric light cascading onto a shelf, the gesture of an impudent flower, or a golden sunset glow on a tree.
People have told me they can pick out my work in a crowded room and that it is rich, classic, and radiant. I'm happy to hear this because I strive to paint in my own voice. I try to capture the mood in the scene, whether it is drama or serenity, and not just paint what I see. I want to leave you my impression of the experience and the joy that comes from looking at colors that glow.
View OPA Blog articles by Trish Wend