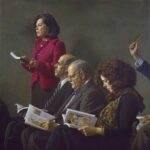 The OPA 2014 Online Auction was the first of it's kind. Oil Painters of America members from across the country took advantage of this opportunity to showcase and sell their artwork.
Currently, 2015 Online Auction dates have not been announced. Follow OPA on Facebook, Twitter, Google+ or LinkedIn for news regarding future events.
3 Easy Steps to Be Eligible to Bid


Step #1:
You must Create an Account on LiveAuctioneers.com in order to participate. Click here to Create an Account.




Step #2:
Once you have completed Step #1, you must Register to Bid specifically for Oil Painters of America's auction. Click here to Register to Bid.Please allow 24 hours for approval.

Live bidding is a faster pace so bid quickly to make sure you get the item you want.


Congratulations! If you have successfully completed Steps 1 and 2 you are now eligible to bid on OPA's online auction. Continue with Step 3 to complete the process.





Step #3:

Deciding how to place your bid – absentee or live?


There are 2 ways to bid on a painting. You must decide what works best for you!

First Way: Placing an Absentee Bid:

Buyers can place absentee bids anytime during the three week preview period which runs from November 13 through December 3, 2015.

How it works: LiveAuctioneers' system will bid on your behalf against other competing bids up to the maximum bid price you have placed. At no time are other bidders or the auction company made aware of your maximum bid amount.

As an absentee bidder you do not need to be present during the auction. OPA & LiveAuctioneers will notify you if your bid has been accepted.


Second Way: Bidding During the Live Auction:

If you would prefer to bid "live" during the actual auction, please plan on being online promptly at 10:00 a.m. Central Time, on Thursday, December 4th. Don't forget – you must have already completed Steps 1 and 2 well in advance to place a bid. Like an actual auction, paintings will be sold one at a time. If there is little or no bidding activity on a particular painting, the auction for that painting will then be completed and closed. The system will then move to the next painting up for sale.
You Are Ready to Place Your Bid! 
Once you have completed Steps #1 – #3, you are eligible to participate in OPA's online auction. If you want to place your bid beforehand – then do so anytime. If you prefer to wait until the live auction then mark your calendar and we will see you on Thursday, December 4, at 10:00 a.m. Central Time.