Digital resources for oil painters
Books
---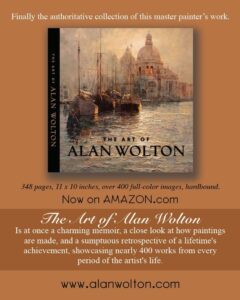 The Art of Alan Wolton
By Alan Wolton
Born in England in 1934, and raised in South Africa, Alan Wolton settled in the American Southwest in 1982. A self-described man of the outdoors, Wolton spends hours "stalking his landscapes and cityscapes" on the US coast, on adventures to new exotic locations, and on return trips to Europe. The Art of Alan Wolton is at once a charming memoir, a close look at how paintings are made, and a sumptuous retrospective of a lifetime's achievement, showcasing over 400 images of artworks from every period of the artist's life.
---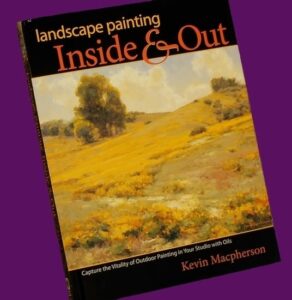 Landscape Painting Inside & Out
By Kevin Macpherson
"My first book, Fill Your Oil Paintings with Light and Color, has guided many beginning and struggling artists with its simple approach to picture making. For me, seeing the world through the eyes of an artist and sharing the gifts of art have been most rewarding.This book will encourage you to let your intuition rule when you paint outdoors. Step-by-step demonstrations and stimulating practice exercised in the studio will prepare you for your adventures outside. I encourage you to paint both outdoors and inside. Contemplative study in the solitude of your studio is important to your development into a highly skilled passionate plein air painter. A balanced approach in which you work both indoors and outdoors will foster your growth as an artist painting with purpose.
The great painters of the past created thoughtful art in the studios with no loss of the vitality and spontaneity we associate with painting outdoors. We will explore ways to relive the outdoor experience, enlarge our ideas and refine our compositions.Discover the secrets to retaining the vitality, spontaneity and harmony of painting outdoors, while using your picture-making skills to create a more thoughtful and powerful statement.Full of fresh air and fresh art, Landscape Painting Inside and Out will guide and encourage beginners while challenging more accomplished artists to bring greater vitality and a more natural, less formulaic finish to their paintings."
---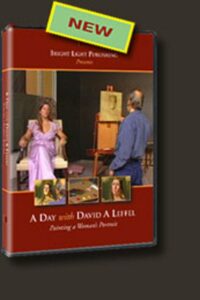 A Day With David Leffel: Painting a Woman's Portrait
By David Leffel
David A. Leffel is a modern master recognized by his peers as a painters' painter. His subjects range from figure and portrait to landscape and still life but his real subject matter is light flowing and drifting over surfaces.He grew up in New York City and studied art and painting at Parsons School of Design, Fordham University and then at the Art Students League of New York. He later returned to the ASL as an instructor until he moved to Taos, NM in 1992.
Leffel has received many honors in his career including Gold and Silver medals at NAWA now
called the Prix de West; Allied Artists, NY; and National Academy of Design, NY. He has also participated in many group and one-person shows.
---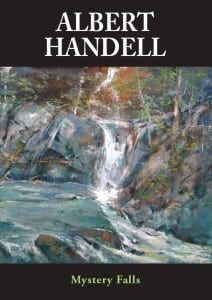 Mystery Falls
By Albert Handell
Watch, listen and be inspired as Albert Handell paints the tranquil beauty of Mystery Falls. A recognized Master of the prestigious Oil Painters of America Mr. Handell shares his knowledge and painting techniques from his beginning thoughts to the finished painting. Developing the composition from several photographs he establishes the transparent washes and works up to the application of thick paint a hallmark of his oil painting style.
Mr. Handell discusses the colors that make up his palette and the techniques of painting thin to thick with clean color. See how he uses both brush and painting knife to achieve masses of harmonious color and the suggestion of details. Thinking aloud as he works Mr. Handell explains his concepts of artistic depth rushing water and the elements of nature such as rocks cliffs and trees. As the painting develops he discusses his process of orchestration and of applying the final touches. In the end all elements of the painting are integrated as the mystery behind Mr. Handells style is revealed.