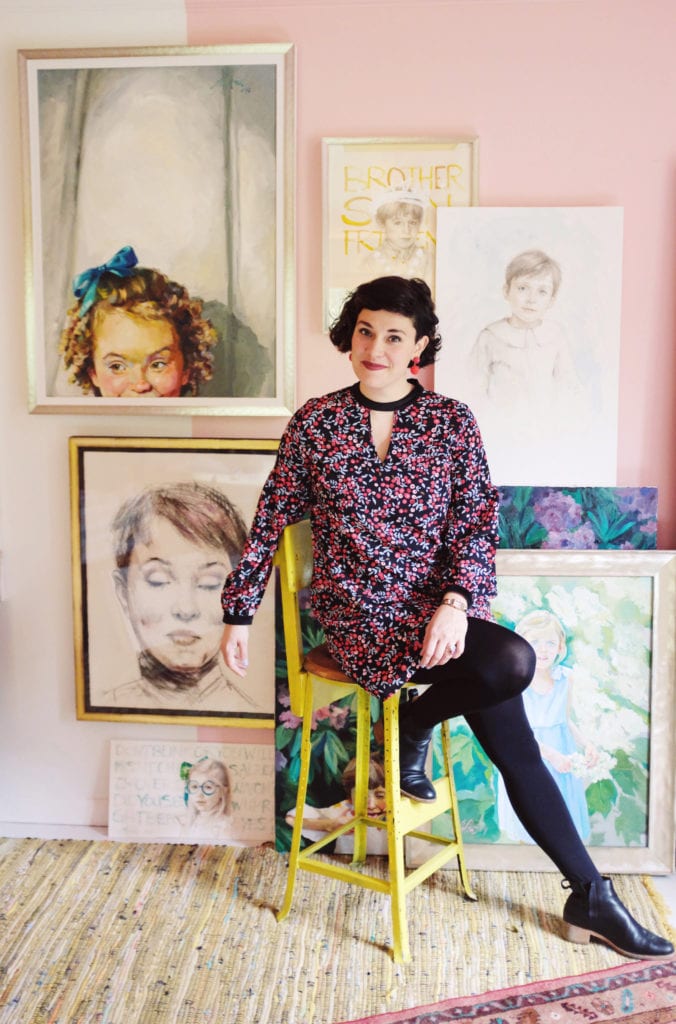 Specializing in oils and drawing with charcoal and conte', Liz Lindstrom draws from two decades of experience when creating commissioned fine artwork for clients, both nationally and internationally. Creating expressive, captivating pieces of portraiture and figurative art from a personal perspective, and with consideration of her client or collector in mind continues to be the driving force behind her art.
During her formative years, Lindstrom developed an acute awareness of anatomy throughout the many years she spent learning and teaching ballet. She cites French Impressionist Edgar Degás as a primary inspiration in her youth. Lindstrom began as a student and intern of her father, Bart Lindstrom, a nationally-renowned portrait artist who invited young Lindstrom to experience the world of art from the time she was a child.
During her training in Chattanooga, Tennessee, she focused on the foundational elements of human anatomy and the conveyance of light on the figure. As she continued her studies, Lindstrom was influenced by the artists that kept studios in the same building where she established her first studio in downtown Chattanooga; Steve Moppert, Gordon Wetmore, Michelle Anderson and Jim Aplin all graciously provided suggestions and feedback on her work as she pursued her new career in portraiture. 

The combination of her training influences in Chattanooga, passionate study of ballet, and experience living abroad in the United Kingdom propelled Lindstrom into the art world. As her horizons broadened, she attended the Scottsdale Artist's School in 2003, studying under Daniel Gerhartz, Mark Daily, and John Michael Carter. She also met and married her husband, Tyler that same year. Lindstrom relocated from Tennessee to Arizona, all the while furthering her career in portraiture and figurative art. Portraits Inc began formal representation of her portraiture nationally in 2005, quickly rising to become one of their top selling artists. In 2010 after relocating back to Tennessee, she completed her first installation of six full-length portraits portraying stages of a woman's lifespan, installed and currently displayed in the lobby of The Chattanooga Center for Women. Lindstrom recently placed in the final three for her oil on canvas titled "Portrait of Dr. Graves" in The Art of the Modern Portrait competition, hosted and judged in New York City, NY. She has also been named as one of the Top Ten Portrait Artists in Tennessee by The Portrait Society of America. 

Lindstrom currently resides in Signal Mountain, Tennessee with her husband and three children, painting and drawing commissions and gallery work out of her home studio.