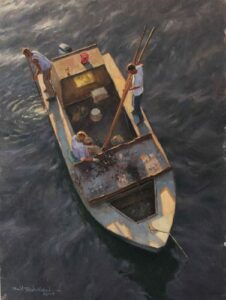 Art has long been discouraged as a career choice because parents grew hearing about the "starving artist" label and for good reason. It is simply not easy pursuing art as a career. However, if the artist can make it work where they can pay their bills, the reward is that you are creating something beautiful and living life on your own terms. People wait until they retire to pick up a brush and in fact today the baby boomers are painting more than ever. They are taking workshops, joining painting groups, and doing something they always wanted to do.
For the young artist wanting to attend an art school, the financial commitment can be a big one. When I went to art school, tuition was $3,000 a year, now it is upwards of $50,000. The opportunities coming out of an art school have changed from the days of a graduate starting in the bull pen doing paste ups or Illustration in a studio. I was able to stay busy in Children's Books for many years but that started to slide with Illustration as well. Computer generated art is the norm today and young artists are producing wonderful animation and children's book illustrations. Graduates are getting jobs right out of school working for gaming companies and animation studios. While employment looks good in the digital field the big factor for these young graduates is the cost of paying back these huge tuition bills. Leaving school with $100,000 to $200,000 in student loans is crippling. Even if they have a good paying job the prospect of owning their own home or affording rent is very low. Colleges have been trying to outdo each other since Harvard's inception.


It's big business, and making campuses bigger is impressive but you want quality Instructors not infinity pools. I personally know many wonderful instructors teaching in art schools that offer workshops outside the campus. Having a degree will get you the better paying jobs, but at what cost? We never needed a degree to get illustration assignments or fine art commissions, but if you really want a degree, then possibly get it at a cheaper state school. You can take your tuition savings and travel to Europe and attend the best Atelier's or take monthly workshops from the best painters in the world. Workshops can be taught outside on location or in a studio environment.
Whether or not you paint as a hobby or plan to make it a career, taking workshops without practicing what you've learned will be a dead end. So when you are not attending a workshop, paint with a friend or group on a planned day. If you make Thursday's your group painting time you will put it in your schedule. Other days you work on your own. Students will choose an instructor because they admire their work or they heard they are excellent teachers. You might take a few workshops unit you have found an instructor you feel comfortable with. It's important to stay with that instructor for a period of time so you keep with a consistent approach. Many students will follow an instructor because they love their technique. Technique is fun and flashy, but your true focus needs to be on the principals of painting with good shapes, values and edges.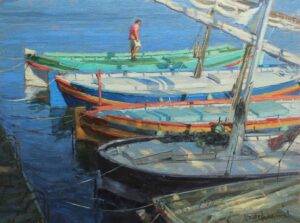 Some students are fearful of failing in a workshop with a group because they have just started painting or haven't picked up a brush for a long time. Everyone starts somewhere and the fact you are considering it is the first step. The workshop environment can be inspiring, not only for the students but the instructors as well. The camaraderie in the classroom forms lasting friendships while improving your craft.
As you improve and maybe start entering shows where you are competing with seasoned professionals it is important to keep things in perspective. Enter only your very best work and frame the painting with a quality gallery frame.You might start selling your work and that's when hobbies can become professions.
That's what is so great about art, you can blossom late in life, and start heading down a wonderful new road.
So whether you are the aspiring professional artist or hobbyist, the one thing to remember is that we are all students constantly open to learning new things.