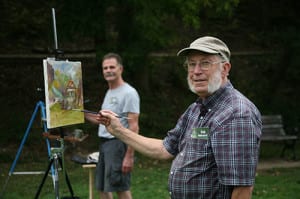 The OPA Paint Out experience was absolutely WONDERFUL! I enjoyed hosting the event and would do it again in a heart beat. The best part of it all was meeting with the artists, listening to what they had to say, seeing what they painted and being able to introduce them to OPA.
Everyone had a wonderful time on day one of the event, so much so that we extended it to our rain date event the following weekend. Everyone was thrilled to say the least and it all evolved the more it went on. We held an Artist reception and opening with live Celtic music and everyone was thrilled and asked that we do it again next year.
Many thanks for allowing us to participate, it was a life enriching experience!