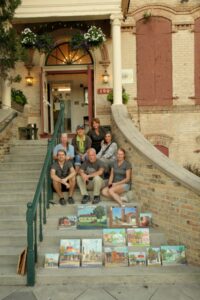 Artists came from a one hundred mile radius to attend the Santaella Studios for the ARTS first OPA Paint Out, hosted by, OPA Member Kerry Vosler. This historic neighborhood is over one hundred years old and is undergoing a time of revitalization. The resident artists of the Santaella had been looking for an event which would connect the artists to the community and draw attention to its rare beauty. The artists loved painting on the streets of West Tampa and the locals loved having them there. Many of them had never seen plein air painters on location before. We caught the attention of the local West Tampa Chamber, restaurants, and even our Florida State Representative: District 62, Janet Cruz. This is a perfect example of how artists can bring whole communities of people together.
Once artists were greeted at the Santaella with fresh hot coffee, restaurant guides and maps they hit the streets. Katie and Susie camped out all day on colorful Main Street. At lunch break they had Iconic Cuban Sandwiches, Cuban coffee & flan for dessert and Katie ordered a holiday pig. Elizabeth found, one of many cool Cigar Factories, with a tower and palm trees. The Cigar Factory Foreman would climb the tower to watch for their ships coming up the Hillsborough River, flying the Cigar Factory Flag.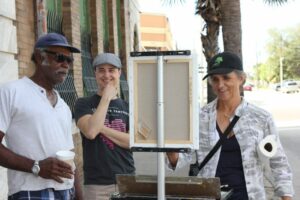 They would then send the horses and carriage to collect the tobacco. Kathy painted the local life of a man painting his fence and porch. David captured the lovely old colorful bungalows both morning and afternoon. Nathan painted a well known street corner in the morning and broke to teach two students from the Vosler Young Artists' Studio, Sophia and Kate, how to draw buildings. He did a afternoon painting of the long green house. Many arts patrons came from near and far to watch our artists at work. Paintings were sold and the artists were inspired. Eddie provided live music all afternoon throughout the wine and cheese reception at the end of the day. Robert Sargent Photography took our final photo of us with our wet paintings.
Next year we have an even bigger event planned. Now that we have made friends with our local community we will do a paint out in early Spring of 2015. This event will include a live wet paint auction at the end of the day for Art Collectors at the Santaella Studios for the ARTS.

Participants

Artists
Susie Covert
Katie Cundiff
Kavid Kent
Kathy Baird
Elizabeth Jennis
Nathan Seay
Kerry Vosler
Sophia
Kate

Assestants
James Vosler
Scott Vosler