Artists have long been influenced by their surroundings.
California artist's paint mostly California scenes and so on. But that is just the surface layer in what makes us who we are. For me, family is first , and if all is well on the home front, all will be well in the studio. Working out of my house all those years as an illustrator kept me in close contact with my family, so I knew most of the time what my kids were up to and put out the daily fires that spring up when you are working out of your home. I love to cook so at the end of a hopefully good day in the studio, I'll pour a drink and start prepping dinner. The process of switching from a brush to a spatula is relaxing and is great time to wind down. Food is such a great part of life that if we treat it only as fuel, we are missing out. Cooking, like art has core principals, and if you learn those principals, wonderful things can happen. My wife Debbie is a Kindergarten Teacher, so she comes home wiped out and in need to talk with an adult and I need to talk to anybody but the dogs. We have created a home we both really love and it is a place of sanctuary. Our neighbors and friends come over for Potluck dinners once a week. Living in Florida has allowed us to live outside year round and working for myself was a great way to work at another passion, my back yard. During a couple of good illustration years I starting putting patios, Tiki bar, fountains and an outdoor fireplace. Building the fireplace was an extension of my creative energy.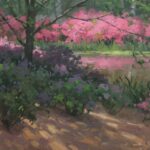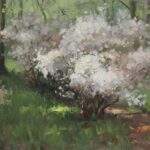 It also became a big meeting place for family and friends. I think these elements family, friends, cooking and building things have made me a better artist. The balance act artists have to juggle in order to survive is different with all of us, but I think we all have to be aware of not just what's in our studio but what surrounds us.
As artist's, we are sensitive to our environment and usually shows itself in our paintings. Some move to locals that inspire them and start creating the best art of their lives. For many of us moving is not feasible, but we can make our studio and home a place that inspires. My wife understands that her five year old students, who are starting school for the first time, need to feel safe and happy in order to learn. If our environment is one that inspires and makes us happy it will show in the art we produce. Collectors buy art that makes their lives better and are in essence buying a piece of who we are. I don't want to sugar coat our careers as artists because it is very difficult, but I am reminded of a school talk I did years ago and at the end of my show a little boy asked me "so you get to stay home and color all day?" Yes, yes I do.