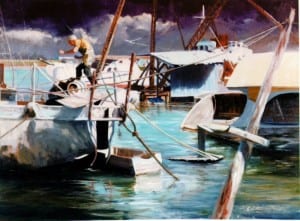 Artists have individual ways of keeping records. My way might be of interest to other artists. This is my 70th year as a practicing artist. The first twenty years as a commercial artist began in 1944 in the Frankhoma Glass Factory in my home town. I worked as an apprentice to John Frank, the owner, making the designs for glass milk bottles. I also worked for a while designing wallpaper and even designing tomb stones in double line for sandblasting at "Rock of Ages Monuments". While I was designing the tombstones, my father-in-law bought me a small set of oils and thus began my lifelong passion.
My first gallery affiliation was in Taos, New Mexico in 1957 and as I began adding galleries I started an inventory list and began numbering my paintings. I just hit number one thousand. I also keep separate lists for the water color, pen & ink etc… My inventory goes across the page from left to right with if the painting was sold or a gift, the number, name of painting, and finally any information about the subject matter. I also kept my slides in a book, organized by the number of the painting, until digital prints took over. I also put a photograph of the painting on a 5 x 7 index card with the painting information on the back. Those are kept in plastic index card boxes. When a painting goes out to a gallery, is entered in a competition, accepted in a competition, is sold or is taken out of inventory for any reason, I write what is happening with it on the back of the card and it is placed in the appropriate box.
I have also organized my photographs by subject matter, so I don't waste a lot of time hunting for a photo. It also helps me narrow down the subjects I really love, because I don't have enough time left, at 85, to paint all of the exciting subjects I have photographed. Staying organized is usually difficult for artists as most of us are right brained, so I keep my price list, inventory, client list, Gallery list, current prospectus for shows, consignment sheets, etc.., in a leather bound notebook with handles, similar to brief case. It takes a while to set all of this up, but it does save time when you are not spending hours looking for something and have more time to paint.
Want more information about staying organized? Read Kurt Anderson's article on "Practical Accounting and Administration for Artists"