With Dave and Jim Fidler, owners, Classic Gallery Frames and OPA President Neil Patterson OPAM
TYPES OF FRAMES: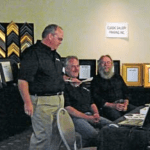 There are a number of different types of frames.  The Hudson River School has an ornamental and gilded appearance.  The Whistler style has fewer lines.  Both of these styles are price prohibitive.  Currently many people use the Plein Air style which has closed corners, is simple and reasonable.  They are Asian or Canadian made.
SELECTING A FRAME:
Selecting frames differs in various regions of the country.  A recent trend has been to the dark frames.  Frequently a painting with red will work with a gold frame.
Don't overwhelm the art with the frame.  This can happen by color using a black frame with a soft image or a heavily ornamented frame with a busy painting. A smaller painting calls for a less ornate frame while a large painting can use a more ornate frame.  The frame and painting need to work together. Try to pull one or more subtle colors in the painting into the frame.
Linen liners, sometimes with a gold fillet, give visual relief.  In California, people found that the liners got dirty from the smog.  Liners are generally more contemporary.  There seems to be regional preferences for liners.  Sometimes a fillet is used instead of linen.  This adds another design element and adds to the appearance of the art.
A shadow box (floater frame) can be used to display an object.  These floater frames are shipped with fasteners.  If planning on using a floater frame, the artist should paint the edge of the painting and be sure the canvas staples are on the back, not on the edge.
The current trend is for gold frames.  The galleries love them and they go well on the walls and pick up warm tones.  However, the Expresso (dark) frames are also very popular.  Many galleries like to mix gold and dark frames on the wall.
A ¼" edge is lost on the painting when framed.
Sometimes frames are made by stacking moldings, combining two different types.
An illustration was shown placing a painting in three different frames: wide liner, gold plein air, dark, and floater.
Closed corners are more professional in appearance than joined corners.  However, they generally come in standard sizes.  The joined corners are more flexible in that they can be made to custom sizes.
MAINTAINING A FRAME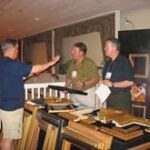 Spots on liners may be removed using white bread, rolled up or a sketching eraser.
Sometimes a closed corner opens.  To repair this, the artist can use cans of black and gold and Elmer's filler.  Fill the crack with filler and sand down.  On the whole frame spray with black (matte) paint.  Then lightly spray gold paint over the frame.  An option would be to just spray the black and gold paint on all four corners.
An alternative method to repair a damaged frame would be to use modeling paste, texture with a brush or sponge and spray with acrylic enamel paint.  The preferred paint would be matte black.
If the artist can get the gallery to buy the frames, they will be more careful.
SHIPPING A FRAMED PAINTING
Place poly stretch wrap around the painting.  Then add the cardboard corners and apply stretch wrap again.  The artist can also use a plastic bag and then add the corners.  The stretch wrap can usually be purchased at a stationery store.    It should be three or five inches wide.
Another method would be to use foam core with rubber bands.  A carpet underlay may be used rather than bubble wrap.
Once the painting is wrapped, place it in a box.  It is best not to ship on a Friday to avoid the painting sitting over the weekend.