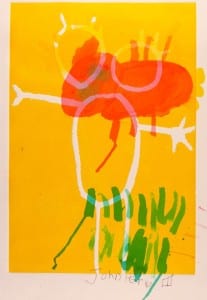 Not unlike the vast majority of OPA members, I displayed a talent in drawing and painting at a very young age. My earliest training comprised drawing from life, learning perspective, shading (value studies) and composition. All of which were based on fundamental principles necessary for artists who wish to depict the natural world. For almost four decades I painted the natural world in Alla Prima methods, however in the desire to broaden my knowledge and artistic skills, I enrolled at age 40 in a BFA program at the State University of New York. Once I was immersed into the studio program, I recognized that few of my fellow students had any comprehensive art training. More surprising was the realization that there were also art professors who lacked drawing skills and a fundamental ability in drawing from life. Painting, Printmaking, Sculpture, and Photography Departments echoed a familiar instructional refrain, "Be free to express yourself." Instruction stressed conception, not perception. I modified my work in order to comply with their modern vision for art but the BFA program only served to raise more questions. Namely why Modernism elicited such a strong emotion against academic training and the premise on which this new art movement was inspired.
The answers were forthcoming when I became a Graduate Art History student. The culmination of this two year research program resulted in my thesis. It was entitled "CHILDREN'S ART; an Analysis its Relation to Creative Expression within Twentieth-Century Art". The following is merely a broad over-view, but it may help to shed light on the logic behind Modern Art and its various movements.
During the centuries preceding the Impressionist Movement young apprentices developed their artistic talents in guilds under the rigorous instruction of a Master Artisan. Academies opened and attracted greater numbers of artistically talented people, primarily men. This mass enrollment resulted in a highly competitive and politically influenced atmosphere.The societal climate during the mid 19th Century was evolving from a two-class system based on monarchies. Those in the church and wealthy landowners comprised the upper class while the masses of the working class poor made up the lower class. The 1848 revolution began with the overthrow of the French monarchy. This eventually resulted in a mindset that the art academies were corrupt and complicit with the suppression of the lower class. Thus the art academies lacked relevance in this new socio- political environment. Furthermore, with the rise of the Industrial Revolution people could earn a living wage and pursue opportunities previously unavailable to them. These opportunities meant that those who desired to pursue a career in the visual arts could do so and without the influence or restrictions of the state, church, or an art academy.
Many factors have provided the stimulus for the various Modern Art Movements. These factors included African Tribal Art, Freud and Jungian Psychoanalysis, Asian Culture, Revolutions, and Wars. For the purpose of this article my focus sheds light on children's art, specifically from age two until the reasoning age of seven. At the start of the 20th Europe and America, educators were curious and explored the developmental processes of children, specifically why children identify with making marks vertically; due to their upright physical condition. Also why the circle is the first enclosed form they make; it represents a wide range of objects from Century in their environment, i.e. Sun, faces, and bodies.

The Modernists were not intent on copying children's art. Rather to adopt many of the insights that child psychologists – such as Jean Piaget, a Swiss psychologist and philosopher – had uncovered in their research. Paul Klee looked to his three year old son's drawings to influence his paintings. Jean Dubuffet felt it was abnormal for an artist to devote too much time in studying an object for the sole purpose of representing that object in its exact proportions. Studying the drawings of children, he found inspiration for his own art. Mark Rothko taught children's art classes and found inspiration in their primitive markings, which influenced his own paintings. However, there were much larger catalysts influencing these artists in adopting a child-like style, and those catalysts were the first and second World Wars. Having witnessed firsthand the horrors of these World Wars, early Century Modernists used their art as a protest platform. 20th Not only did their art reflect the horrors of war, but they also drew upon childlike innocence, reminding the human race of the innocence which remains deeply within us all.
The accompanying images were created by a supporting grant towards an exhibition, as well as my written thesis.
Want to know more about me? Please visit
susanbudash.com