As artists, we are forced to open up and put our inner thoughts and emotions into our artwork, then out on display for the whole world to see. A lot of times we get negative feedback, such as "It is with regret that we inform you that your painting: ……… was not selected for inclusion in this year's show. The participation and quality of work submitted was exceptional. The jurors had a very difficult job of selecting show paintings from the paintings entered.  Unfortunately, your artwork was not selected for this exhibition, however, please join us for the opening of this year's exhibition", and it hurts.
I was just starting to paint and gather up the courage to enter shows, then I would receive something like the above. I was disappointed, but I was also more motivated to improve my skills, dig a bit deeper and become a better painter. I progressed a bit more in my artistic career by painting more regularly and getting constructive feedback from several close teachers. I came into a period of artistic bliss where I was starting to get into more events and accepted to more exhibitions. During this time I helped co-organize an exhibition called "Northern California Impressionism" at the Peninsula Museum of Art. It was an exhibition with nineteen nationally-known artists that was designed around the theme of "plein air to studio". It was definitely a high for me to work with these noted artists, participate in this exhibit and bring our work to the Peninsula Museum of Art for the community. The exhibit was very well attended and several magazine articles were written about it. Life couldn't be better.
As this show was closing I applied to 5-6 exhibitions and plein air events. The notifications about these shows would come in three to four months. As the time approached, I was very hopeful that I'd get into at least one of these shows. But as you probably guessed I did not get into any of the shows.
Before, the rejection did not hurt as much because I was not as hard on myself, I figured that it was because I did not have as much experience as the other artists or because there were obvious mistakes in my art. But this time, the rejection really hurt, especially because I was not sure what I was doing wrong in my work – especially after my recent successes! I confided in another artist who is farther along in their journey and success as an artist and they said "What this is telling you is that your work is missing something". It was hard to hear, but I appreciated their honesty. I started to look closely at my work to see what was missing. This idea of this "something" missing from my paintings was starting to get to me. At this time, I was reading "Art & Fear" by David Bayles & Ted Orland and came across this quote,
"The lessons you are meant to learn are in your work. To see them, you need only look at the work clearly – without judgment, without fear, without wishes or hopes. Without emotional expectations. Ask your work what it needs, not what you need. Then set aside your fears and listen, the way a good parent listens to a child"
(Bayles, D., & Orland, T. (2001). Art & Fear. Image Continuum Press Edition).
So, I did.
The next time I went to the studio, I spent a lot of time analyzing my paintings and looking at work by other artists that I admired. I tried to push away my biases and put myself in the shoes of another artist or juror. I then asked myself what was wrong. What would I change? Why would I choose this painting for a show? Using this method of objectively judging my own work, I was starting to see what was missing.
About the same time, I got a call from a local art organization that saw my web site. They told me that they liked my work and asked me to do a demo. I said yes, but I was nervous. This would be my second demo ever, and my confidence was down from those recent rejections. I did not want to disappoint the people who had come to learn from me.
Having to do a demo for a group motivated me. I wanted to do a good demo so the group could learn some new skills and techniques. I decided to paint a marshland with water reflections. I spent several days at the marshes taking photos and painting small 6″x8″ studies. I drew several compositions and charcoal value studies of the designs. Then, I painted two 9″x12″ and used my 6″x8″ studies and drawings as references. A week later at my demo, I felt prepared and excited to talk to the group. My demo went very well and the group had lots of good questions for me. The group really liked my work and said it was peaceful and tranquil. They also commented that with all the tension in the world it was great to be transported to a peaceful place where they could come relax and focus on art.
The work that I did for this demo and the positive feedback I received put me back on track. I got my confidence back. I began to use this process of objective judgement to produce better paintings and my skill level started improving again.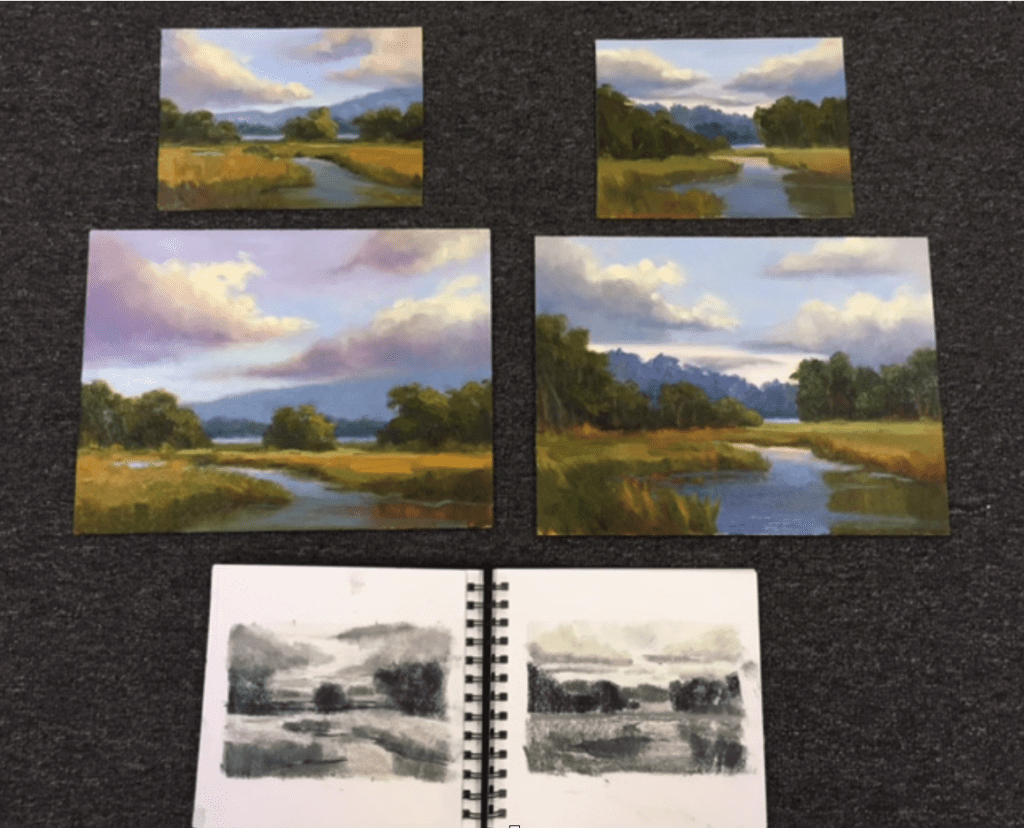 Several months later I entered the two 9″x12″ paintings I did for the demo in some shows. Both 9″x12″, titled "Last Light" and "Reverence" were accepted into the Laguna Plein Air Painters exhibit titled: "California, The Golden State" and then on July 28th I received:
CONGRATULATIONS!
Your entry "Last Light" has been accepted into NOAPS 2017 Best of America Exhibition and will be hosted by The Castle Gallery Fine Art in Fort Wayne, Indiana.
The two 6″x8″ studies I did for this demo were chosen for exhibit by my gallery in Marblehead, MA.

From this experience, I've realized that a person's development and artistic success does not go in a straight line. Rather it goes up and down, just like life. Progress in art is very personal.
"Look at your work and it tells you how it is when you hold back or when you embrace. When you are lazy, your artwork is lazy; when you hold back, it holds back; when you hesitate, it stands there staring, hands in its pocket. But when you commit, it comes on like blazes".
(Bayles, D., & Orland, T. (2001). Art & Fear. Image Continuum Press Edition.)
Since then, I've been in another positive growth period. I can see that I am more consistent with my work and I'm making the same mistakes less and less frequently. I don't compare my work with others. I compete with myself and ask, how can I improve? How can I paint that scene better? Did I capture the light? Did I push the colors enough? It is a good place to be right now.
"Naïve passion, which promotes work done in ignorance of obstacles, becomes – with courage – informed passion, which promotes work done in full acceptance of those obstacles".
(Bayles, D., & Orland, T. (2001). Art & Fear. Image Continuum Press Edition.
For me, I can't think that I will progress if I play it safe. I need to take chances in my work and to say "yes" to opportunities that might make me feel a little uncomfortable at first, but will make me grow as a person and as an artist. It's amazing to me that a little push in the right direction can bring unexpected and pleasant surprises. If you don't take a shot, you'll never hit the target – so you gotta take that shot!