I recently wrote a blog titled 'So You Want To Host A Plein Air Event,' in which I identified the three required components of a successful event: Artists, Organizers, and Buyers.  Similar to a three-legged-stools, without one of these components the stool falls over.  Of the three, Buyers/Collectors is the one most often neglected.  Attracting buyers and developing collectors takes a little more effort; takes a little education, not unlike developing a taste for fine wine or cigars.
Wes Heitzman, a good friend and one of the key organizers of the amazingly successful Bluff Strokes Plein Air Event in Dubuque, IA, wrote an insightful article from the point of view of a Collector.  I think this article will go a long way towards that education and have an eye-opening impact on Organizers, Artists, and future Art Owners alike.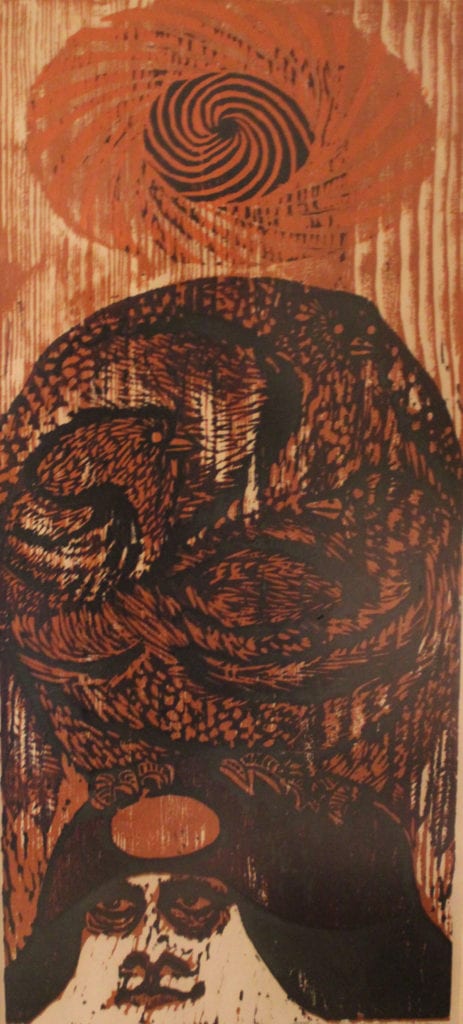 I bought my first piece of art from Steve Steininger, at Dubuque Senior High, during our graduating year of 1967.   Senior had a great art department and some excellent student artists, and my mother had advised me that a good way to start an art collection would be to buy from student artist friends.  "Me Bird" is a woodcut in red and brown tones.  It is a quirky depiction of a man wearing what first appears to be a large helmet, but on further inspection is a large mass of feathers.  Looking very closely, 3 faces of birds reveal themselves hidden among the feathers.  I loved this work for its cleverness, its skill of execution, and that it was the creation of a good friend.  I still remember my teenage pride when I picked it up from the frame shop in a professional-looking wooden frame with high quality, non-reflective glass.  "Me Bird" has accompanied me for 50 years, gracing dorm room walls, and then living rooms, bedrooms, and dens of various abodes through my life.  Today, in my home office, it still elicits fond remembrances and a smile.
I will come back to "Me Bird" in a bit, but here are a few reasons to favor your home with original art.  First, just like you, an original work of art is unique – there are no other versions out there, you will not walk into a friend's house and see an identical copy, it will be an extension of your unique personality.  Second, an artist producing original works uses better materials than are used in reproductions.  Look closely at a pastel, oil, or watercolor painting – at the layering, the texture, the interaction with the underlying paper or canvas; a reproduction will use cheaper inks and paper and will appear flatter than a work of fine art.  And yes, you will respond to this differently on your wall.  The same goes for a handcrafted pot vs a manufactured one; and though I love pottery, I'll focus here on things you can hang.   A third consideration is value.
In general, a unique work will hold some level of value, and possibly a chance of significant gain, whereas a mass produced work will have little to no resale value.  It can be rewarding to find individual works or to create a collection with investment value. This requires research, strategy, and networking into a world of professional dealers; but I would like to focus here on adding value to our lives.
A work of art is a conversation; an expression of an experience an artist is having with the world.  When you bring a piece of art into your life, you participate in that conversation.  Roy Haught was an art teacher and also a hunter, camper, and outdoorsman.  His work explores and reflects those interests.  I have a watercolor of Roy's that depicts a row of conifers along the crest of a hill.  For years, I drove by a similar row of trees on the way to work in Waterloo.  After we hung Roy's painting in our home, I started seeing those trees when I drove by.  We have a small painting by Ellen Wagener of a pale pastel blue sky above a very low horizon.  I once was driving in western Iowa to the funeral of an aunt, looked out over the fields, and saw that sky – because of Ellen's directing my perception.  These experiences were profound.  I have many times watched my wife, Barbara, a pastel artist, go into a "zone" as she explores a still life or landscape and translates it to her media.  This experience is shared by artists everywhere as they converse with their world.   When you buy an original artwork for your home you are sharing in their experience and their conversation.
Recent research in neuroscience suggests we have two "systems" of thinking.  System 1 works in background, monitoring the world, capturing impressions, checking for strange or threatening events, and throwing out intuitive judgments and responses.  System 2 is engaged when analysis or self-control are needed.  This research has transformed economic decision theory; but relevant to how we relate to art is what it has revealed in how we store and retrieve memories.  System 1 maintains a vast system of associative memory.  When we encounter a word or image, a ripple of associated ideas, images, and memories is evoked without us even being aware.  These influence and bend our current thoughts.  If you are asked to fill in the blank letters in "S _ _ P" you are likely to write SOUP if you have recently been discussing cooking, SOAP if cleaning.  Words and images you encounter even affect your moods and behaviors; you will walk slower and stoop a little more if you have been discussing aging than if you have been talking about running.  All of this means that when you look at a work of art in your home, a flood of associated memories will enter your mind, affecting your thoughts and your mood without your even being aware.
With that in mind, the act of purchasing an original art is often a personal adventure.  We purchase in interesting galleries, at art fairs and special openings, sometimes even in an artist's own studio.  We may meet the artist, glimpse how she sees the world, see something a little differently through her eyes.  All of this is evoked in your associative memory every time you look up and see your artwork.  Art you put in your home will continue to enrich your life in a way that mass-produced art from IKEA or Pottery Barn cannot.
"Me Bird" has continued to provide a smile in my life and has been joined by many other pieces.  Each carries its own history and memories.  Each has added joy and richness to my life.  I recently talked to a young friend, Jennifer, who had just bought her first piece of original art.  "Cleo" is a large colored pencil drawing of a hog she and her husband Aaron commissioned from Hana Tysver Velde.  It now hangs in their living room over their couch.  Jennifer's comments: "We love it because it's beautiful and well done and it's unique – no one else has it.  It also has meaning.  For Aaron, it symbolizes his family heritage growing up on a hog farm, and for me, it doubles as a symbol of our life together in Iowa."  I asked Jennifer how it felt to have a piece of original art in her home.  "Pretty friggin cool!
Some notes on getting started collecting.  I have noticed that one of the biggest impediments people wanting to buy art is self-doubt.  They don't think they have an eye for quality.  They don't know what is a fair price.  A little self-education will build confidence.  Here are some thoughts to get started:
Learn about the arts community in your town/city. What artists are working around you, what are the area art events, what galleries are in the area?  Extend this out to neighboring communities within easy travel distance.
Get familiar. Walk into galleries and studios, browse, and note what really pops out at you.  Ask about the artists, where they are from, what is interesting about them.
Attend art openings. Meet some of the artists and get to know their work.  You also get free snacks!
Go to art fairs and festivals, plein air events. Artists sell their work direct in a fun outdoor market environment.  Talk to them!
From all of these interactions, develop a feeling of what you like and dislike. Take a chance, buy a piece, hang it, and ask yourself what distinguishes it from that Pottery Barn reproduction.
Look for opportunities to buy art within your budget. For us, many Christmas gifts have been artworks that we gave each other as a joint gift.