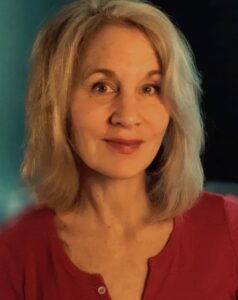 From the rising sunlight reaching across the woodland streams in Pennsylvania to the late afternoon light stretching over the foothills of the Bighorn Mountains in Wyoming, the ever-changing beauty of our fragile home is my inspiration. Describing the landscape or the character in a loved one's face while honoring the random and mysterious qualities of oils and pastels is an immeasurable privilege. With my paintings I hope to prompt a nostalgic memory or inspire another to pause and appreciate the beauty that surrounds us.
I credit my mother for having inspired me to draw and paint. She has been painting the figure as long as I can remember. I used to stand behind her when she sketched portraits of the neighborhood children. I started drawing and painting in elementary school. As a fifth grader I sold my first landscape painting to my principal!
In my early teens I began learning guitar and writing songs which I'd sing in talent contests, and in high school I sang leading roles in musical productions in school and in the civic theater. I had become addicted to the musical stage and majored in classical vocal performance in college.  I moved to Germany seeking a career as a classical singer. After having had a rewarding career in Germany as an opera singer I returned to America with my children and enrolled in art classes at the Wayne Art Center and workshops with several esteemed artists. I now live in a rural area in Pennsylvania where I am surrounded by a lifetime of incentive to get my paints out.
I am a signature member of the Maryland Pastel Society and the Philadelphia Watercolor Society, a member of the Oil Painters of America, the Pastel Society of America, the International Association of Pastel Societies, and the Portrait Society of America.
Awards
2018
 Maryland Pastel Society Award, 25th annual juried Renaissance in Pastel Show
  2018    People's Choice Award, On Location Artists at the Brandywine 2018 -with Philadelphia Watercolor Society
     Architecture in the Landscape Award, On Location, Artists at the Brandywine 
    Jack Rickeson & Co. Award, Wayne Plein Air Festival
 2017   
   Honorable Mention Winner 2017 Artists Magazine All-Media Online Competition
View OPA Blog articles by Ms. Barbara Berry