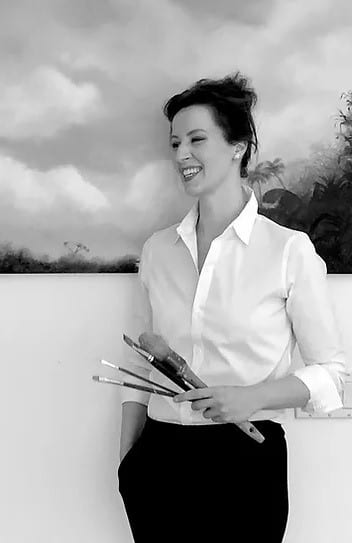 Born in the scenic green hills of Limburg in Holland, Brigit Krans is one of many artists in generations of her creative family. In her teens she excelled in art history and the making of elaborate drawings, which awarded her unique recognition from a local art academy.
At age 21, Brigit decided to leave Holland in exchange for 20 years of living a rather adventurous life in Africa, Asia, The Middle East, Europe and North America. Brigit painted throughout these two decades, though her primary focus was on her successful career as a performing artist and as an educator specializing in dance training and movement analysis. As a critic and writer, she wrote performance reviews for the Goethe Institute in Indonesia and became knowledgeable about the work of visual artists throughout Southeast Asia. This inspired Brigit to take up painting full-time and professionally.
In 2014, Brigit moved to Canada to sharpen her painting skills at the Montreal School of Art. Her eagerness to learn more intensely meant she continued autodidactically, developing her skills with rigorous daily practice. This was swiftly rewarded with the acceptance of her paintings into a major exhibition in one of New England's finest landscape galleries. Brigit's work can be found in private collections in Europe and the United States.
View OPA Blog articles by Brigit Krans