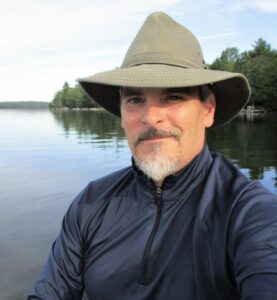 Habowski's earliest recollections, since his birth in 1966, have always been imbued with some form of creative expression. His Florida childhood was abundant with fond memories of covert operations with his G.I.Joes, making forts out of lawn chairs and bed blankets, and sketching anything and everything on his school notebook paper. Even then, he knew that art would be his passion in life. His mother, having a creative bent herself through knitting and other crafts, encouraged his creative pursuits and provided plenty of space to explore the possibilities.
During junior high and high school, Habowski took every art course he could and managed to win several awards. A highlight from this time was his artwork representing his high school in the National Scholastic Art Competition and of it being shown in the Congressional offices in Florida. Money was tight in the household, so while he enjoyed creating art in various mediums, he never entertained the thought of pursuing it further by going to art school after graduation. Other than the basics he received in school, he is self-taught.
Shortly after high school, Habowski worked at a Newspaper syndicate that supplied editorial content and daily cartoon strips to newspapers nationwide. Being only about nineteen at the time, this job experience helped form his work ethic and organizational skills. In his spare time, he continued to ply away at his artwork. His mediums were varied and consisted of colored pencil, acrylic, and watercolor. While employed with the syndicate, he met his wife, who worked in another department at the company. They soon got married and after a few years, Habowski's wife expressed an interest in returning to her New England family roots after years in Florida. Her parents had vacation properties in Maine and after several vacations, to the area, they decided to take the plunge and relocate to the state in 1991. That year, Habowski states, will always mark the re-birth of his calling.
From the beginning, Maine's rugged beauty immediately consumed his senses. He had lived in Florida since 1976, so this new environment totally captivated him. Without hesitation, Habowski began in earnest pursuing his painting. He joined a local art society and began painting with watercolors. In 1993, he signed up for a local oil painting workshop. This is where he tried oils for the first time. It has been a love affair ever since. The range of possibilities in manipulating the medium fed perfectly into his way of working.
Since that initial workshop, Habowski has pursued his own path of discovery to find his way artistically. His only education from this point has been reading about the life and methods of the painters that inspire him. The list of those artists is varied in their styles. He likes William DeKooning's work for its visceral paint application, Richard Diebenkorn's for its structure and design, Robert Bechtle's work for its realism of everyday events, and Fairfield Porter's for its painterly quality and everyday life content.
By far, though, the most influential has been Edward Hopper. His distilled realism and psychological aspect to his work inspire Habowski to this day.
View OPA Blog articles by Bruce Habowski