"Ease Up" by Bruce Habowski
14″ x 18″ – Oil on panel

"April, 3 30 PM" by Bruce Habowski
14″ x 11″ – Oil on panel
I think at one time or another, we've all fallen victim to the spell. I'm referring to those magicians of painting who have mesmerized us with their art and inspired us to begin our artistic journey. Often, we begin that journey by emulating the work of the artists who inspire us, searching for that elusive "it" that the artists infuse in their work. In my case, the artist who has had the most influence on my work is Edward Hopper. The distilled realism and psychological aspect of his work resonated with me…..and still does. What I also admired about him was his tenacity in pursuing his singular vision of just wanting to paint sunlight on a building.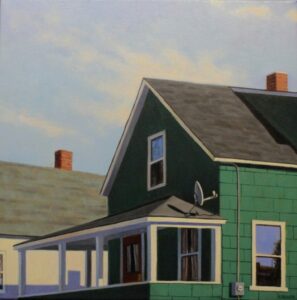 Compared to his contemporaries, such as George Bellows, it took many years for Hopper to achieve success, but now some of his paintings are considered icons of American art.
It's expected that painters, at the beginning of their journey, will often create master copies of artists' work to learn technique, color, etc. or emulate their work by adopting their style. The problem that can arise, however, is that some artists might not find their own way, becoming nothing more than an imitation of their idols. In my journey, it was paramount that I seek only to be inspired by Hopper and not become his shadow. My desire was to acknowledge his contribution to my growth as an artist while maintaining my own individuality in pursuing similar subjects.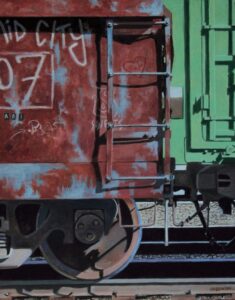 Another challenge that artists may face is that of becoming followers just for the sake of their desire to "belong" to something…a movement, a style, etc. In the beginning, I found myself entertaining this goal at times. One's tastes and interests will ebb and flow, but constants will emerge. We have to embrace those constants when they emerge, for they are an avenue in finding our true core self. I have discovered that there are threads of authenticity that are me and will rarely change…if at all. For instance, often certain color palettes speak to me in spite of my frequent experimentation. I have also found in myself that I favor subject matter that has a strong structural or architectural element to it, such as my urban paintings.
At a point, artists have to muster up the courage to believe that their ideas and vision are worthy and valid. We have to be willing to trust our choices. You will find your own voice…it's just a matter of time and practice. Often, I used to compare my work to that of others, wishing that I could paint like so and so. I felt that my work didn't fit in anywhere, but I did believe that it was true and honest to me. I soon accepted the fact that comparisons are odious and have no place in my journey.
"Delivery Doors – 7 am" by Bruce Habowski
12″ x 12″

"Energy Saver" by Bruce Habowski
10″ x 8″ – Oil on panel