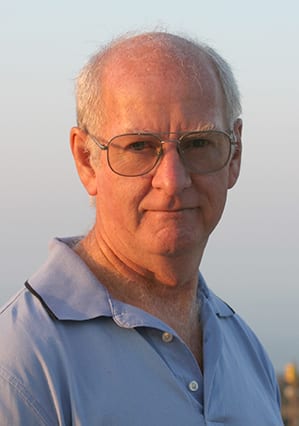 Edwin Kayton has been prolific in the mediums of oil, drawing and sculpture for over 30 years. Often called a "renaissance man" by gallery representatives, he recently added the medium of true fresco to his repertoire, His artistic subjects have focused on the Hawaiian personality, European cultures and the western genre.
Kayton's background includes drafting, graphics and woodworking. He graduated from Museum Art School (now Paci c Northwest School of Art) in Portland, Oregon in 1967, receiving the school's "outstanding student" award and completing a detailed thesis on stone lithography.
His oil painting technique focuses on the subtle relationship and the interaction between light and shadow, colors, shapes and patterns of subjects, often exploiting chiaroscuro to create an atmospheric feeling. He combines the bright color relationships of the Impressionistic style with realistic forms found in Classical painting, altering shapes, values and colors to define balance, movement and mood.
Sculpture has played an important role in Kayton's career. A bronze casting of his life-size bust of Hawaii's astronaut, Col. Ellison S. Onizuka, is among the NASA memorabilia in the space museum at Keahole International Airport in Kailua-Kona. In 1983, Kayton's nine-piece series of the Kamehameha dynasty was unveiled in Hawaii's state capitol hosted by Lt. Gov. John David Waihee, then honored with a senate rotunda exhibit in Washington, D.C., sponsored by the late U.S. Senator Spark Matsunaga.
The artist makes his own stretcher bars and custom koa frames in his Hawaii studio, using this rare and elegant wood indigenous to the Islands.
Kayton studied marble sculpture in Pietrasanta, Italy, in 1994, followed by travel through Italy, Greece and France. He returns annually to work plein air in the extraordinary atmosphere of these ancient cultures. He enjoyed a solo exhibit at the U.S. Consulate in Milano in 2001 and participated in the "Biennale Internazionale dell'Arte Contemporanea Citta di Firenze," an international invitational exhibit held in Florence, in December, 2005. He also studied the medium of buon fresco with master iLia Anossov in Los Angeles in 2005.
Articulate in the concepts of composition and color, the artist periodically teaches classes in oil painting in Kona, Italy and various cities on the mainland U.S..
Kayton is represented by galleries in Maui, Honolulu and on the big island of Hawaii, where he lives in the southernmost region of Ka`u. His works are collected across the U.S., in Europe and in Asia.
P.O. Box 6198, Ocean View, Hawaii 96737 (808) 929-7065 • keoho@aol.com www.kayton-art.com
Education
1963-1967 Museum Art School, Portland, Oregon – Certi cate of Fine Arts (1967-1971 Military Service, U.S. Navy)
1993 Marble Sculpting Workshop, Pietrasanta, Italy • Instructor: Chesare Riva
1995 Buon Fresco workshop, Los Angeles • Instructor: iLia Anossov
Juried Shows

1970  Ninth Annual Armed Forces Art Festival, Hawaii
1971  Spring Arts Festival, Hawaii
1971 Lake Oswego Arts Festival, Oregon
1975 Student Exhibit at Portland Community College, Oregon 1982 Big Island Art Festival, Hawaii
1982  Annual Spring Arts Festival, Honolulu, Hawaii
1983  Hawaii Newspaper Agency Exhibit, Honolulu, Hawaii *From 1983 until 1998, the artist focused on presenting a series of solo exhibits throughout Hawaii and the West Coast and did not enter juried art competition
2000 Paci c Rim Arts Exposition, Seattle, Washington
2005 Biennale Internazionale dell'Arte Contemporanea, Florence, Italy
2009 Schaefer Portait Challenge, Mauii Arts & Cultural Center, Kahului, Maui
2016 Hawaii National Parks Exhibit, Maui Arts & Cultural Center, Kahului, Maui
1983 Hawaii State Capitol: Solo Exhibit hosted by Lt. Governor John D. Waihee
1983 U.S. Senate Rotunda, Wash., D.C.: Solo Exhibit hosted by U.S. Senator Spark M. Matsunaga
2001 U.S. Consulate, Milano, Italy: Solo Art Exhibit
Awards
1967 Outstanding Student Award • Museum Art School
1970  Best of Show • Ninth Annual Armed Forces Art Festival
1971  Best of Show, Drawing Category • Spring Arts Festival, Hawaii
1971 First Place, Drawing Category • Lake Oswego Arts Festival, Oregon 1975 Best of Show • Student Exhibit, Portland Community College, Oregon 1975 Purchase Award • Student Exhibit, Portland Community College, Oregon 1982 Best of Show • Big Island Art Festival, Hawaii
1999 Category Award • Idyllwild Art Festival, California
2003  Best Artist • Big Island Journal (popular vote)
2004  Best Artist (tied with Herb Kane) • Big Island Journal (popular vote)
Sculpture of Kalakaua for the hologram-cover of Honolulu Magazine's 100th anniversary edition

Drawing included in "Paci c Voices • Keeping our Culture Alive", Univ. of Wash. Press (Seattle WA)

Cover Painting for "Petroglyphs of Hawaii" by Likeke McBridge
View OPA Blog articles by Edwin Kayton