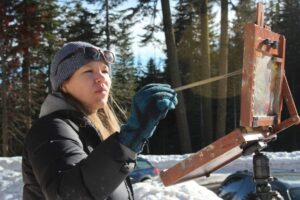 Painter Jenay Elder resides in Southern Oregon where her impressionistic oil paintings are known for their textured notes of color, representational quality and their sensitive subject matter. Jenay sold her first Monet inspired, impressionistic landscape online at the age of fifteen in 2001 and has been making and selling art ever since. Her artwork can be found in regional gallery shows and plein air events as well as in private collections around the world. She is a recent recipient of the Haines Foundation grant and has participated in numerous paint outs and shows, including the UVAA 30 under 30 exhibit.
Jenay has been an artist in the making for some time (b.1985). She grew up in a family that moved more often than not, living up and down the Pacific Northwest. Her childhood shaped her mind's eye with fields of wild daisy flowers while getting lost on unruly bike rides. These experiences helped build a sensitivity to nature and allowed her time to soak in stillness with imagination. This deep appreciation of nature inevitably brought her to the art of picture making where subjects are depicted with insight and familiarity. During her process she attempts to express to others the joy that life offers by being present and breathing.

Jenay developed a sharp eye for portrait drawing after studying cast and figure drawing with Soviet trained teachers at The Ashland Academy of Art. Since graduating from the Academy (2010) she has pursued plein air painting. This practice has further shaped her artistic vision by once again immersing herself in the poetry of soaking in a time and place.

Jenay teaches drawing and painting at Rogue Community College as well as privately and through studio to school programs. Her teaching style is a balance of encouragement and creativity with fundamentals and technique.

View OPA Blog articles by Jenay Elder